Today it is my pleasure to welcome Harlequin Nocturne author 

Michele Hauf

to HarlequinJunkie
Michele is my Fav. Harlequin Nocturne author, Kiss Me Deadly and His Forgotten Forever are among my all time Favorite reads…as you can tell I'm having a bit of a fan girl moment here obviously 😉
Michele welcome, would you please introduce yourself to the readers here, what would you say are the defining characteristics of a Michele Hauf novel?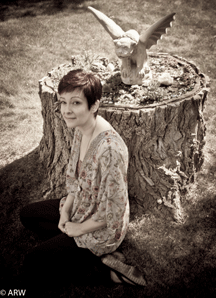 Hey, all! I've been writing romance since the early 90s, and love a good adventure romance with a little touch of something weird. That might be what defines my books, too. That little touch of something weird, whether it's vampires, angels, or werewolves.
What are the five best things about being a writer?
Working from home!
Getting to work with the characters I make up and love.
Doing something I enjoy.
Flexible hours
I learn new stuff every day. Research is fun!
One book you read in the last 6 months that has left a lasting impression and why?
One Hundred Names For Love by Diane Ackerman. This is a true story about the author's experience with her husband's stroke. It is an amazing read, and the title comes from the different pet names he gave her in life. Every day he would call her something amazing, like Sybarite of My Soul. Just cool, love names, you know? I've recently reread it because it is very inspiring to see how she coped with helping her husband regain his ability to speak and learn again. And the names inspired me to give that attribute to my current hero, Certainly Jones, who always has a new pet name for the heroine every time he sees her.
What are you currently working on? What other releases so you have planned for 2013?
Right now I'm working on an untitled story that will be #3 in my next mini-series, In The Company of Vampires. This series focus on the knights in the Order of the Stake. A secret order dedicated to slaying vampires. The first will be out this summer with, Beautiful Danger.
My other '13 releases besides This Wicked Magic, include a followup to that story with This Soul Magic (a short story about the sister of TWM's heroine). This fall I hope to have Kambriel's story out (she is Malakai's sister, and Blu & Creed's daughter). And that's all I have scheduled for now!
Let's talk about your newest release 'This Wicked Magic, If you had to sum up the book for the reader here…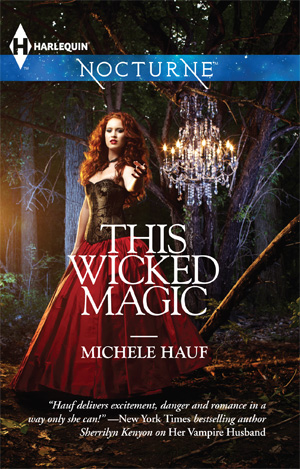 It's a weird, dark, quirky tale of demons, magic and finding what is right for you in the oddest and strangest way possible.
What was your biggest challenge while writing this book?
Making the hero lovable. He's very dark. He's infested with demons. And he doesn't always do the right thing. But he has a good heart, and I hope that is clear to the reader.
If you had to pick your favorite scene …
The scene at the end where they send Certainly back to Daemonia. The whole ceremony surrounding such an act was fun to create, and the sacrifice he makes to do so is what really makes me love him.
Who would play CJ and Vika in the movie version of your book? And why?
Well, CJ is tall, dark and lanky. I have a tendency to use pictures when I'm writing to get an image of the characters in my head. Actually, a cello player for the bank Apocalyptica is my vision of CJ. You can see the pics at my Pinterest board here: http://pinterest.com/toastfaery/certainly-vika/ So if that guy can act, I pick him! As for Vika, I'm not sure. I have her image in my brain, but can't think of a popular actress who would fit that. If you've seen Dancing With THe Stars, she looks a lot like the red-head pro dancer, Anna Trebunskya.
Giveaway: Michele will be giving away
3 copies of 'This Wicked Magic'
To enter giveaway: Please complete Rafflecopter form below and post a comment to this Q:
I love stories that have opposites falling in love. What is your favorite 'opposite pairing' in romance novels?
A short teaser from the book:
Takes place after some table sex in CJ's office at the Council headquarters.
Certainly leaned back against the counter, the tea service behind him. He turned and poured a measure into a clear glass cup. Turning, he watched Vika sit up on the table, tug down her skirt, and fuss with her hair.
"No, don't do that," he said. "I want to look at you just as you are. Mussed."
She put down her hands and gave him a little smile before self-consciously looking aside. Her garnite hair was tugged from the updo and one sleeve shrugged off her narrow shoulder. Her skirt was bunched above her knees, revealing long, pale, gorgeous legs that ended in those sexy shoes that had dug into his shoulders. He would find marks there later. He hoped.
Her mouth was red and she sucked in a corner of her lower lip and looked up at him from under a swath of bright hair. It was a kittenish look, like a sexy come-on from one of those Playboy models, to which, no man could deny an attraction.
Certainly swallowed a sip of tea—hard. "Great Hecate, where have you been all my life?"
She twirled a strand of bright hair about her forefinger. "Living in my little round house. Studying magic. Casting spells. Cleaning up piles of werewolf and other assorted creatures."
"I've never met anyone quite like you. Conflicting in so many ways, yet each bit of you compliments all the other bits. I like you undone, Vika. But I like you all tidied up and perfect, as well."
"If we're going to analyze what we like about the other, I have to say you're not the kind of man who has ever attracted me."
Another sip of tea went down the wrong way, and Certainly managed to croak out, "Thanks a lot."
"It's true. But I can't seem to stay away from you." She took his left hand and stroked a fingertip over the tattoos on the back of it. "You're everything I never thought I'd want. When you look at me like that over the rim of your teacup I want to tear away my clothes and let you stare as long as you like. I'm normally pretty controlled around men. You bring out the vixen in me."
"Tear away. I'll look as long as you want me to."
She fingered the neckline of her dress, her long black lashes dusting the air as she must be considering doing some clothing removal. He wasn't even close to coming down from the incredible sexual high they'd shared, and if she wanted to go round two, he was right there, hard and ready for action.
About the book:
This Wicked Magic by Michele Hauf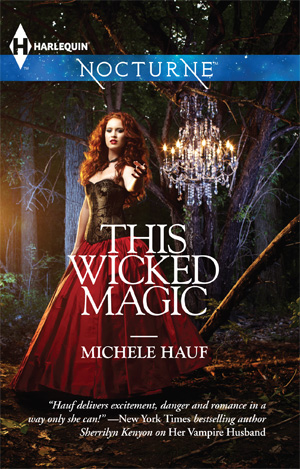 Certainly Jones has pushed it too far this time. Gnawing and clawing at his soul are the demons he unknowingly carried back from his quest into their land. Weak and exhausted, the dark witch gazes down the dim, cobbled street at his only hope—a lone vehicle with blazing headlights. Desperate, he makes a mad dash for the light, and the striking woman illuminated in its wake.
Vika senses him before she sees him. The good witch with emerald eyes and fiery red hair has never dabbled in dark magic. But one look at CJ turns her life upside down. Soon Vika is lured into his dangerous world…and his powerful arms. A few sultry kisses are not enough to save CJ from his demons—it's going to take some seriously potent sorcery. And they're running out of time.