Today it is my pleasure to Welcome author
Christina Lauren
to HJ!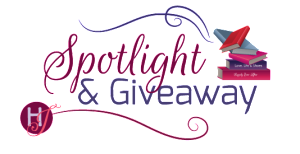 Hi Christina & Lauren and welcome to HJ! We're so excited to chat with you about your new release, Josh and Hazel's Guide to Not Dating!
Please summarize the book for the readers here: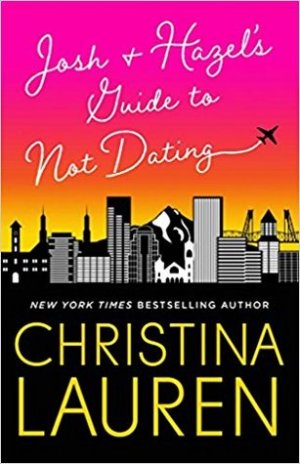 Most men can't handle Hazel. With the energy of a toddler and the mouth of a sailor, they're often too timid to recognize her heart of gold.Josh and Hazel's Guide to Not Dating tells the story of two people who are definitely not dating, no matter how often they end up in bed together.

Please share your favorite scenes from the book…
1) Hazel's Letter to Josh – This is such a small moment, but it was based off an internet story that made us cackle for a week and totally captures how wonderfully funny Hazel is:
So, I'd just had my wisdom teeth out. I was convinced beforehand that it would be simple: pull a few teeth, take a few ibuprofen, call it a day. But as it happens, my teeth were impacted and I had to be knocked out for their removal. I woke up later at home, in a painkiller-induced sweat, with hollow aching caves in my mouth, cheeks full of cotton tubes, and the frantic recollection that I had a paper due in two days.
Ignoring my mom's suggestion that she soberly send one for me, I composed and sent the following email, which Josh currently has printed out and framed in his bathroom:
Dera Josh.,
In class you sed that if we email you our paper you would look over them. I wanted to send you my paper and I put it in my calendar so as not forget. But the thing that happened is that I had a witsdom tooth out actually all of them. I have tried very hard in this clas and have a solid B (!!!). You are very smart and I nknw that I will do better if you help me. Can I have a few extra days???? I'm not feeling very well with this pills and please I know that you can't make exceptions for all the pope but if you do it for me this one thing I will give all my wishes in a fountain for youfrom now on
i love you,
Hazel Bradford (it's Hazel not Haley like you said it's ok don't be embearassed emberessed sad)
Incidentally, he also has his reply printed out, and framed just below it:
Hazel-not-Haley,
I can make this exception. And don't worry, I'm not embarrassed. It's not like I puked in your shoes or rolled around naked on your couch.
Josh

2) Josh sees Hazel – Hazel in all of her Hazel glory decides she and Josh should do cartwheels and we get to see Josh looking at Hazel and really really looking at her.
Hazel looks down, meeting my eyes briefly before she turns her attention back to where she's rolling up my other sleeve. Her touch is soft and focused; it makes me feel hyperaware, bringing the heat back to my face as I think again about what Michelle said. For the length of an inhale, I picture leaning forward, feeling the press of her mouth to mine. I swallow, not sure where the thought came from, or what to do with it.

3) Josh Falls Off a Boat –This quote doesn't feature the actual falling but displays what a debacle this date is from the start. We love this scene because of the shenanigans (they've accidentally invited ex's on to go on dates) and because we start to see how Josh & Hazel's connection is starting to strengthen – inside jokes!
"Josh, this is McKenzie."
Josh reached out to shake her hand and—huh. He gave her his pretty-boy smile. Not the small, sweet version he saves for the cashier at the grocery store, but the one I love—the one that reaches his eyes and carves a dimple into his cheek.
His unexpected, sun-coming-out smile.
Easy, Josh, let her settle in before you hit her with both barrels.
"And Kenzie," I said, "this is—"
"Hey, McKenzie," Kota cut in, a muscle twitching in his jaw.
Josh glanced to me, and then back at them. "You two know each other?"
"We went out a few tim—" Kota started to say, before Kenzie held up her palm.
"Fucked. We fucked a few times—and then he didn't call me back."
"Euuusssh" was pretty much the only sound I could make as the awkward ballooned around us. I looked to Josh for help.
He clapped his hands in front of him. "Maybe we should split up and do something else?"
McKenzie took a step forward, hooking her arm through Josh's. "Not necessary." Her smile was aimed at him but the venom in her voice was all for Kota. "I'm here with you." Ameaningful pause. "He doesn't matter."
"Mmokay?" The plea for help in Josh's eyes was as clear as a flare shot up over his head.
We turned at the sound of our guide descending the plank that led to the dock, clipboard in hand. We checked in and were welcomed aboard and given slickers and boots.
Introductions were made before a brief spiel about life preservers and where we were allowed on the boat, and where we weren't. We were told to watch for ropes on the deck because they're everywhere and dangerous and easy to trip over.
The words death trap were definitely used. We talked about motion sickness and were told exactly where we could barf.
I met Josh's eyes over Kenzie's head and was almost giddy to see him already smiling in my direction and mouthing the words, Not on my shoes.
Inside jokes, the sign of a true bestie.

4) Hazel & Josh go drinking after a particularly bad date – We're not gonna spoil the whole scene here but trust us there is nothing cuter than tipsy Josh & Hazel.
It begins to drizzle outside, and Josh surprises me by turning down the music. I know him well enough to anticipate that this next part is a peace offering. For some crazy reason Josh will bend over backward to make me happy. "We could stay out for a bit."
I smile in the dark car. "You're reading my mind, Jiminnie."
He glances at me, and then flicks his turn indicator. "You up for some drinks with your food?"
"When am I not?"
Excerpt. © Reprinted by permission. All rights reserved.
Thanks for blogging at HJ!
Giveaway:

Print copy of JOSH AND HAZEL'S GUIDE TO NOT DATING by Christina Lauren
To enter Giveaway: Please complete the Rafflecopter form and

Leave a comment with your thoughts on the book…
Book Info:
Hazel Camille Bradford knows she's a lot to take—and frankly, most men aren't up to the challenge. If her army of pets and thrill for the absurd don't send them running, her lack of filter means she'll say exactly the wrong thing in a delicate moment. Their loss. She's a good soul in search of honest fun.
Josh Im has known Hazel since college, where her zany playfulness proved completely incompatible with his mellow restraint. From the first night they met—when she gracelessly threw up on his shoes—to when she sent him an unintelligible email while in a post-surgical haze, Josh has always thought of Hazel more as a spectacle than a peer. But now, ten years later, after a cheating girlfriend has turned his life upside down, going out with Hazel is a breath of fresh air.
Not that Josh and Hazel date. At least, not each other. Because setting each other up on progressively terrible double blind dates means there's nothing between them…right?
Buy: http://christinalaurenbooks.com/books/josh-and-hazels-guide-to-not-dating/


Meet the Author: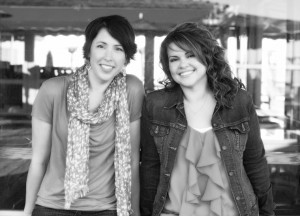 Christina Lauren is the combined pen name of longtime writing partners Christina Hobbs and Lauren Billings. They are New York Times, USA Today, and #1 international bestselling authors of the Beautiful and Wild Seasons series, Sublime, The House, Dating You/Hating You and the critically acclaimed Autoboyography. Roomies (released December 2017), has been optioned for film by Jenna Dewan's company Everheart Productions, with Christina and Lauren set to write the screenplay.
Website | Facebook | Twitter | Instagram |