You Can't Judge a Trope By Its Cover:
Anti-Heroes Edition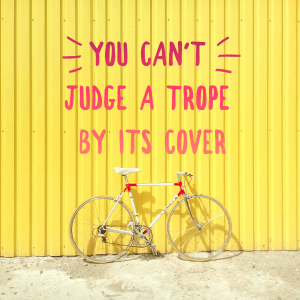 You Can't Judge a Trope By Its Cover: Anti-Heroes Edition
I love romance for a lot of different reasons. I love the slight disconnect from reality. I love the accelerated timelines. I love that there are never dirty socks left on the floor. I love that everything works out in the end. I love that there is no obstacle too big for our heroes and heroines. Mostly though, I love the tropes. The tropes themselves aren't anything out of the ordinary. But the execution of a successful and unique romance trope is a sight to behold.
Let's start with the nitty gritty: Anti-Heroes (This may be my favourite trope of all time, I really can't resist an alpha-hole). Anti-heroes provide me with the perfect balance of grit and darkness while still giving me the happily ever after that I crave. The anti-heroes I love are completely OTT and possessive to even consider letting something bad happen to the heroines which, come hell or high-water, gives us a good ending.
Jameson Kane in The Kane Trilogy by Stylo Fantome. He's so arrogant and rude. Not in a cute "I like you so I'm going to tease you" sort of way but in a "I'm a complete asshole" kind of way. That said it totally worked for me. Kane ends up being in the reformed anti-hero camp when all is said and done. And boy oh boy, does he give good grovel.
Vicious in Vicious by LJ Shen. What. A. Dick. Seriously, I don't have anything more to say about this other than this: Marry Me, Vicious?
Julian Esguerra in Twist Me by Anna Zaires. This was a different sort of anti-hero. Probably of all the anti-heroes I love this is the grittiest and least redeemed of them all. He's the king of anti-heroes. I have to be 100% honest though I am still sort of torn about Julian. I loved him and I got his character but there were some life choices made there that I just couldn't quite get on board with (and it's been over a month since I last read this and I'm still thinking about it).
Donavon Kincaid in Dirty Filthy Rich Men by Laurelin Paige. This anti-hero is so much fun because not only is he sort of grumpy and frowny all the time, he also has a self destructive streak 100 miles wide. I'll be the first to admit that every once in a while it's nice to see that being a jerk doesn't get rewarded (at least not immediately!). Donovan learns that lesson the hard way.
James Hunter in Degrees of Control by Eve Dangerfield. So this anti-heroes isn't really an anti-hero! If you're looking for a way to ease into this trope the I would highly recommend this one. James and yoga instructor Charlotte both have some pretty steamy fantasies about him treating her like an alpha-hole. In their day to day life Charlie is completely in control and definitely the strong one in this story. It's a great twist on a common trope.
King in King by TM Frazier. King is my survival anti-heroes. His defensive and asshole-ish behaviour comes from living in a cut throat world. This book definitely leans towards the violent and graphic side. That said, his reasons for his mostly deplorable behaviour was so spot on and believable that I couldn't help but fall in love with him.
Lachlan Mount in The Mount Trilogy by Meghan March. Mount is an overbearing, over the top, obsessive jerk. And it's so good and twisted. Mount is a special kind of anti-hero because he takes the time to ask what Kiera wants and needs and then deliberately ignores it. He takes being a dick to a new level. And honestly, I am totally fine with this. In fact, I was almost mad at Mount when he started to show signs of reform.
How do you feel about anti-heroes – yay or nay? Am I missing someone for our anti-hero list? Which anti-heroes do you love?
Katharine