Billionaire Boss, Holiday Baby by Janice Maynard: Sometimes when you want something so badly and the fates finally allow you to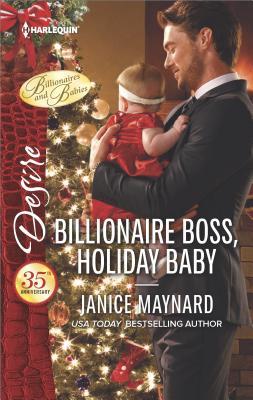 touch it you forget you still have to earn it.
Dani Meadows knew she was in deep. The problem? She was highly attracted to her boss and she actually enjoyed her job. This was so not going to end well for anyone. So armed with that knowledge she was determined to do what she needed to do, what was best for her and get out.
Nathaniel Winston was a good boss, but in anything other than work relationships, well to say he was less than stellar was an understatement. So what if he was attracted to his assistant. He worked too well with her to let anything mess with that relationship. Anything, or so he was telling himself.
When a twist of fate and the crazy Atlanta weather lock Dani and Nathaniel together not once but twice some one must be telling them something, right? Throw in a baby and words unspoken, you know the tale is far from simple. Will these two be able to figure it out or will all their work be for not?
Ms. Maynard has given her readers and interesting piece of work. The plot is very bumpy and will keep you intrigued while the descriptions will help you envision a snowy southern Christmas. There are some funny hops in the story but overall this is a feel good surprise baby/office romance that will leave you asking for more stories from the hands of Ms. Maynard.

Book Info:

Publication: October 3rd 2017 | Harlequin Desire |
This bachelor boss gets a little holiday surprise…only from USA TODAY bestselling author Janice Maynard! Being stranded with her crush-worthy boss isn't part of Dani Meadows's job description! But she and sexy CEO Nathaniel Winston are snowbound for Christmas…along with an adorable baby who might be Nathaniel's daughter. Nathaniel needs Dani's help. But his fantasies about his executive assistant are nowhere near as hot as the reality of having her in his home…and in his bed. When the snow melts, will he be able to say goodbye?