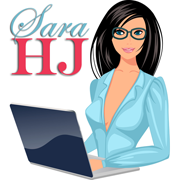 Welcome to HarlequinJunkie!
Fellow book-lovers, if you haven't been to HJ before please check out the Readers Info page.
Authors: To Request a Review/ Spotlight please use the Review Request Form.
Disclaimer: This blog is fully sponsored by me, and anything posted is a reflection of my personal opinion and for fun purposes only.
Thanks for taking the time to visit my blog, hope to see you back here soon. 🙂
~ Sara
HJ footprints in the Blogosphere:
My Blog post at Entangled Publishing Blog Talking about Falling in Love with Category Short Romances
Ladie's-a-plate with author Natalie Anderson
Romance@Random: My ongoing love affair with Category romance
Some Buzz about HarlequinJunkie
Thank you for having me on your blog, Sara. I love Harlequin Junkie and I had a fabulous time answering your reader's comments. I look forward to coming back in the fall when I'm ready to release my next book.


Best,- Tracey Garvis Graves, Author of 'On the Island'

 Sara, it's great to find a site dedicated to the art form of the category romance. I grew up on these books and for many years they were the only romances I read. Today, they are still my go-to for an intense, satisfying romance, so it's not surprising that I wound up writing them. I loved being a guest on your blog and was thrilled that you enjoyed my book. Long may your celebration of everything Harlequin continue,


Cheers, Sarah Mayberry, Author of 'Her Best Worst Mistake'

 

Hi Sara,It was a real pleasure to be on your blog and connect with yourself and other Harlequin junkies…Particularly liked your professionalism, your great reviews (especially of my books!!) and answering some of theslightly more off-the-wall questions in your questionnaire… But hey, am I the only one who wanted to take apartially clothed Pierce Brosnan with me to the desert island? Seriously, though, hope to see this blog grow andgrow.




Heidi x


Heidi Rice, Harlequin Presents and USA today Best Selling Author.

 I had so much fun on your blog. I'm coming back and don't even think about not inviting me. LOL ~ Seriously, Sara, you're the bomb. I even quote you on my promo art.


xoxo Catherine Bybee July 16, 2012 – Best selling Author of Married by Monday

 So great to find someone who is out and proud about their love for Harlequin romances. It's fabulous to interact here with others who share the love! Keep up the good work, Sara!


– Amy Andrews July 15, 2012 – Author of Harlequin Medical & Presents Series

 Dear Sara, I've never met anyone more friendly and willing to help promote Harlequin books–your love of Harlequin books is appreciated more than you'll ever know and Harlequin American Romance is thrilled to be included on your blog! I can't wait to interact with your blog readers with my next release in November.


– Marin Thomas. Author, Harlequin American Series.

 Sara,Thanks for spotlighting my book on your blog. It's wonderful to visit a place that focuses on the novels that I've enjoyed for years. (I'm thrilled to see that your first Harlequin was Love's Tangled Web by Mary Lyons! That book started my love for the sister switching trope. My copy is well-loved and almost falling apart!) I look forward to reading more reviews and posts at HarlequinJunkie. I have a feeling I'm going to be addicted to this site. 🙂


Susanna Carr, Author, Harlequin Presents & Blaze Series

 Hi, Sara! Thank you so much for reviewing and spotlighting my debut, What a Texas Girl Want, on your blog ~ I had a fabulous time answering questions and chatting with your readers. I can't wait to come back and visit with you and your readers when my next book comes out. Keep up the great work, Sara!


– Kristina Knight Author of 'What a Texas Girl Wants'
Sara
Use this for any requests or to drop me a line. 😉
[contactform email="harlequinjunkie@yahoo.com"] Email me! [/contactform]