Buying his Bride of Convenience by Michelle Smart is the third story in her Bound by a Billionaire series. While each can be read as a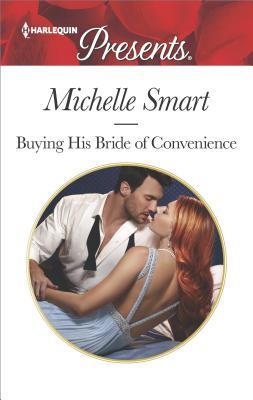 standalone, they all feature members of the Pellegrini family who are suffering the loss of their eldest brother Pieta. It's a series that is also very timely, dealing with philanthropic activities on a Caribbean island that has suffered from a devastating hurricane.
Daniele Pellegrini feels that he will never live up to the reputation of his older brother but he will do everything in his power to continue his work, including building a new hospital on the island of Caballeros. He's met one of the aid workers, Eva Bergen, a woman who wasn't impressed by his attempt to get her into bed on their one and only date. In fact, her dislike of him makes her the perfect choice for a task he must fulfill in order to claim the family's ancestral home now that Pieta has died. He has to marry, and quickly. Since he's got no interest in marrying for love, he's not above bribing Eva with a substantial monetary donation for the island if she'll agree to a short term marriage. Eva accepts. But she soon learns that first impressions aren't always the right ones. Daniele has a lot more redeeming qualities than she expected. Will their marriage of convenience turn into a real love affair?
I've enjoyed the previous stories in this series, all of which have shed a little more light on some family secrets. Parts of this story take place during the same time frame as Claiming His One Night Baby and include revelations about Pieta's past that have a profound impact on Daniele. He struggles with his memories of his brother as a result, a fact that makes him more sympathetic to Eva. While she agreed to marry Daniele for the money, it's not long before her attraction to him makes their marriage a much more interesting prospect. They share some sensual scenes together even as they both try to guard their hearts.
Eva's past is one of tragedy. She escaped a physically abusive and restrictive household by marrying a childhood friend when she was 18, only to have him die after a short time from cancer. She's never felt the desire or strong emotions that Daniele evokes in her, which are both scary and exhilarating. Not only does Daniele make her feel desired, he also brings with him a caring family. It's no surprise that she falls in love with him, though she fears her feelings may never be returned. The conflicts that come up are swiftly resolved and Eva and Daniele get their happy ending, along with a sweet epilogue that features the couples from the previous books in a joyful setting. I highly recommend all the books in this series!

Book Info:

Publication: Sep 19, 2017 | Harlequin Presents | Bound to a Billionaire #3
Daniele Pellegrini must wed or lose his family inheritance. Eva Bergen is the perfect candidate for three reasons:
1. Her body is pure temptation
2. She can't reject his outrageous charitable donation in exchange for their vows.
3. Most importantly, she can't stand him – this hard-hearted tycoon won't risk his wife falling in love!
When Eva's first youthful marriage ended in tragedy, she buried any hope of loving again. She's certain she'll have no problem keeping her second marriage on purely convenient terms…until her husband changes the rules with his expertly ruthless seduction!