Claimed for the De Carrillo Twins by Abby Green: Trinity goes from a young naïve housekeeper to nanny for a pair of adorable twins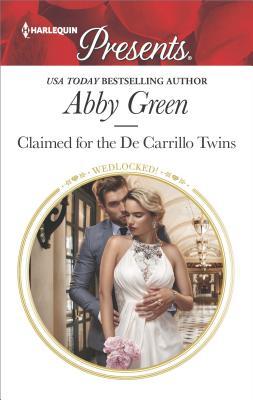 whose mother has died, to step mom when their father Rio convinces her to marry him for their well being. It doesn't matter that she has a crush on her previous employer Cruz, the handsome half brother of her new husband. Before she got married, she and Cruz had had a scorching encounter in the library one night that Cruz ended abruptly and that caused a rift between them.
When her husband dies in a car accident, sole custody of the twins is left to Trinity. Cruz, who believes Trinity is a gold digger who married his half brother for his money is unhappy with this plan. He blackmails Trinity into marrying him, for the good of the twins, believing that she'll quickly file for divorce and be out of his life for good. But Trinity has no plans to leave the precious boys that she cares for and feels destined to be trapped in a loveless marriage with a man who despises her. Can they somehow find a way to repair the miscommunications between them and make their way to a happy ending?
I have to say that I wasn't overly enamoured with the hero or the heroine in the first half of this story. First, Cruz blames Trinity's 'provocative' attire for his lustful attraction to her when he encounters her one night late in the library when she is his housekeeper. (She's wearing her pajamas). Though he's disgusted with himself for taking advantage of his employee, it comes across that he's disgusted with her for being a lowly housekeeper. In the first half of the story, he sneers, he belittles, and he disrespects her at every turn. For her part, Tiffany is too much of a mouse. She backs down in every conversation and is never is able to fully explain to Cruz that her marriage to Rio was in name only for the sake of giving the young children some continuity. The saving grace is that the children are quite adorable and are the key to bringing this clearly mismatched and antagonistic couple to the bargaining table.
In the second half these characters are more likable and better matched. Cruz comes to the realization that he's made a horrible misjudgement of Trinity's character and actually works to making amends with her (and apologizes!). Trinity is better at standing up for herself and making it clear that she really is concerned about the well being of the children. They start a tentative bond when the boys are sick that shows Trinity that Cruz is equally interested in being a better parent to the children than his brother had been. A trip alone for the two of them for a social event leads to some steamy scenes (and the revelation that Trinity is as innocent as she appeared). Their physical attraction to each other no longer leads to antagonism but to a dawning emotional connection. They get their happy ending, and a very sweet epilogue. While I had my reservations at first, the author did an admirable job of redeeming the characters and it was an enjoyable ending.
Book Info:

Publication: Feb 21, 2017 | Harlequin Presents | Wedlocked! #84
She'd just whispered one word. " Please. "
Cruz De Carrillo cannot forget the searing kiss he shared with his shy maid, Trinity Adams. For the moment the Spanish billionaire walked away, horrified at losing his legendary control, Trinity quickly moved on–to become nanny, guardian and stepmother to his brother's sons!
Now Cruz must protect his orphaned nephews. When Trinity refuses to leave them, he knows there is one solution–a ring on her finger! It's the only way Cruz can keep her in his castillo, under his watchful eye, and finish what he started–this time in his bed!