In Cold Pursuit (Cold Justice #2) by Toni Anderson, Vivi is a single parent to her son Michael with little involvement, if any from Michael's father. Michael has some issues, they are coping (though some days it feels like just barely), and Vivi is doing her best for him. After a specialist appointment, they head to the mall for a little down time…never expecting the terror that they would soon experience there.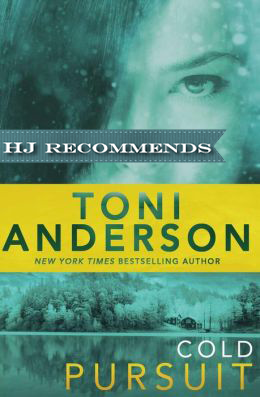 FBI Special Agent Jed Brennan is on some enforced time off, doing some shopping for family. When a terrorist attack at the mall thrusts him back into action, Vivi is the hot tempered red haired woman he saves and her son who he goes back in for. The safe feeling Vivi feels after surviving that attack don't last for long. Michael could hold the key to the attack, and the wrong people want the little boy silenced. With Michael threatened, fear runs fresh and Vivi will do anything to protect him. Even if it means trusting their fate to someone other than herself.
Vivi and Jed both have trust issues, and now is not the time for the attraction they both feel simmering beneath the surface. They have both loved, lost, and hurt. "Feelings of attraction seemed foolish and juvenile when they were running for their lives, but it had been a long time since she'd felt any of those things and it unsettled her." When Vivi and Michael are whisked to a safe house, Jed stays close even as law enforcement tries to uncover who is behind the attack and why. Suddenly the safe house is no longer safe and Jed sneaks them away with the promise to them and himself to protect them. The chemistry between Jed and Vivi is no longer possible to ignore, even as they strive to secure the future. But can Jed protect Vivi and Michael from the unknown terrorist? Will they find answers in time, to save themselves and society even as danger chases them? Will it be too late for anything?
Toni takes us on a wild adventure in Cold Pursuit! Vivi and Jed are both powerful, catchy characters that you will find yourself hoping not only survive all this, but find a way to be together. Vivi is strong, independent, and devoted to her son. Jed is also a strong character who doesn't always follow the rules. I loved the way the two of them were forced together, but from there what they did was up to them. It's a struggle for both of them to come to terms with their rapidly growing feelings towards one another, and that journey is all the more tenuous given their unusual situation! Michael, Vivi's son, is a great asset to Cold Pursuit and is really the backbone of the story. I got the feeling a lot is going on in his mind, but the struggles he face are too powerful to overcome easily. All of the secondary characters, from evil to good, lent credibility and power to Cold Pursuit. In particular I really enjoyed Jed's parents…there we get a bit of humor mixed in with the terror Toni manages to elicit in Cold Pursuit, just at the right time and in the right way.
The mysterious, suspenseful part of Cold Pursuit will keep you on the edge of your seat as Toni twists and turns the plot so you never know what to expect and could never imagine what's coming! She blends the suspense and romance so well that the flow doesn't stop, both of them play off the other so that the romance complements the suspense and vice versa.
I thoroughly enjoyed being scared by Toni Anderson in Cold Pursuit! I loved the romance, the relationships, and that Toni manages to keep me off guard and surprise me! Cold Pursuit is the second book in Toni Anderson's Cold Justice series, but it definitely can be read as a stand alone. I'd highly recommend Cold Pursuit to any romantic suspense reader.
Book Info:

Published June 2nd 2014 by Toni Anderson |  (Cold Justice #2)
Single mom Vivi Vincent is thrust into her worst nightmare when she's trapped inside a mall during a terror attack along with her eight-year-old son. With the help of Jed Brennan, an FBI special agent on enforced leave, Vivi and her son survive the assault. But the danger is far from over.
Vivi's son may have witnessed critical details of the terrorists' future plans and is targeted for death, but he's mute, and he's traumatized. Still someone launches a strike against the FBI's safe house, and Jed fears the bad guys have an inside man. No longer knowing who to trust, he hides mother and son in a log cabin deep in the heart of the Wisconsin Northwoods. There Jed and Vivi try to figure out how to unlock the information inside her son's head. What they don't bargain for is the red-hot attraction that flares between them, or the extent of the sinister plot that threatens to rip apart not only any chance of happiness they might have together, but also the very fabric of American society.