Find Me Maggie (The Misadventures of Maggie Mae #3) by Beth Yarnall, is an exciting short story that kept me engaged from beginning to end. In less than 70 pages, Ms. Yarnall tells a suspenseful tale about Maggie Mae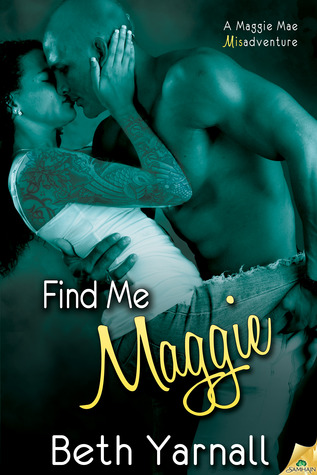 Castro, a smart woman who was once unlucky in love and as a result, will never be free from her past.
In a nutshell, Maggie is dating and in love with hunky FBI agent Clive Poole, and the feeling is very mutual. They met on a case that Clive was investigating. Furthermore, their sexual chemistry is completely off the charts.
In this story, Maggie's twin brother Miguel, gets involved in a ponzi scheme with Maggie's ex-boyfriend Sergei, who has ties to the Russian mob. Miguel is missing and in order to save his life, Maggie must team up with Sergei. Thankfully, Maggie realizes that Sergei double-crossed both her and her brother and she quickly devises a plan to save Miguel. Luckily, she has the Super Agent by her side.
I liked this book and I definitely plan on reading the other two books in the series. Because the story is so short, I found it difficult to really get to know the characters intimately. Even after reading the book blurbs from the first two books, I wasn't able to figure out what Maggie did for a living. However, what I did find out about Maggie I really liked. She is witty, sassy and protective, which enabled me to like and care about her very much. Maggie is the star, but the supporting cast is very entertaining.
Overall, a fun, action-packed read that can be read as a standalone.
Book Info:

Published July 8th 2014 by Samhain Publishing, Ltd. | (The Misadventures of Maggie Mae #3)
Oh, the hoops Maggie must jump through on the way to getting horizontal…
Tonight is the night that Maggie Mae Castro and her boyfriend, FBI Special Agent Clive Poole, will finally have thoroughly thought-out, all-options-weighed, completely premeditated, totally intentional sex. There's just one little problem. Maggie's twin brother, Miguel, is missing and his girlfriend begs Maggie to find him.
Having seen Miguel's rap sheet, Clive is sure this is just another stunt designed to get the con artist out of whatever trouble he's gotten himself into. But as Maggie digs deeper, she discovers that Miguel swindled a very scary man out of a very large sum of money.
Maggie strikes a deal with the man Miguel conned—if she brings Miguel back, her brother lives, if the man's henchmen get their hands on him first, all bets are off. The race is on across state lines. But the con has gone on too long, and even Maggie's best finagling might not be enough to convince Miguel to give the money back—or keep the man from killing Miguel just to set an example.