In the Regency anthology Four Weddings and a Sixpence , readers have the distinct pleasure of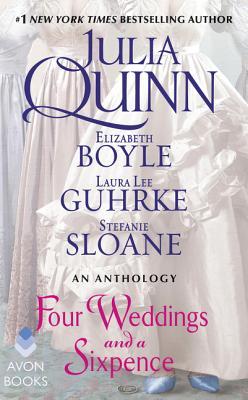 perusing stories written by four different but equally talented authors. Julia Quinn, Elizabeth Boyle, Stefanie Sloane and Laura Lee Guhrke did a great job putting their own spin on a tale of four best friends who discover a sixpence while at boarding school. A sixpence that the girls hope will have the magical ability to help them find true love, based on the well known rhyme that also serves as titles for each of their stories.
In the prologue Something Old by Julia Quinn, we were introduced to young Beatrice, Anne, Cordelia, and Elinor and got to see how they found the sixpence at Madam Rochambeaux's school, deciding it would change their lives when they came of age to find a suitable match. This fun story gave a brief background for each of the girls, although it focused a bit more on Bea overall.
In Something New by Stefanie Sloane, Anne Brabourne, who is now twenty years old, is being pushed by her uncle to marry soon. Preferably by her upcoming twenty-first birthday. She's the first of the four friends to hold onto the sixpence, even though she isn't looking for true love but instead for a comfortable match. I instantly liked the rapport Anne had with Rhys Hamilton, the Duke of Dorset. He was a known rogue but he had a good heart and liked to flirt and tease with Anne, which meant they had some great bantering between them. I also enjoyed that the duke was the one pursuing her once they realized the incredible chemistry they had together.
Something Borrowed by Elizabeth Boyle was a friends-to-lovers/fake fiance novella that paired Cordelia Padley with her former neighbor, Winston Christopher "Kipp" Talcott, the Earl of Thornton. This was a really sweet story that honestly warmed my heart. Cordelia and Kipp were budding explorers growing up, wanting to traverse the world, but when we see them as adults, only she had been able to travel as he had the duties of becoming an earl thrown at him. I loved how when Cordelia asked Kipp to be her fake betrothed to keep her aunts from matchmaking, it opened up his eyes to new options. Instead of marrying for money, he saw a chance at a love match with his former friend. They had a lovely, easy relationship between them that definitely did have some sparks of attraction so it was a nice blend of camaraderie and passion.
'Cordelia had tumbled back into his life like a lost bird, some faraway bit of brilliant feathers, blown off course by intemperate storms. Out of place, but no less in need of shelter.
And his arms became that protective haven.'
In Something Blue by Laura Lee Guhrke, we had Lady Elinor "Ellie" Daventry squaring off with her former beau, Mr. Lawrence Blackthorne. This second chance romance had a lot of fiery emotions still left between the hero and heroine but it was Ellie's father and his supposed misdeeds during the Napoleonic war that kept coming between them. I had fun with this one, where the validity of the sixpence's so-called magical powers kept coming into play. It worked for each of Ellie's friends who had hold of the sixpence before she got it, but she of course wanted to think more practically and not believe in nonsense. This short story had a bit more conflict than some of the others so it seemed a little more exciting in some ways but still showed a tenderness between Lawrence and Ellie that was wonderfully done.
In the final story, And a Sixpence in Her Shoe by Julia Quinn, we finally got back to Beatrice "Bea" Heywood and saw how she handled watching her three beloved friends find true love with the help of the sixpence. I have to say that I didn't realize until it was over that there really wasn't much in the way of drama in this novella, but it was so sweet and hopelessly romantic a tale that I didn't mind at all. I loved the pairing of scientific-minded Bea with scholarly Lord Frederick Grey-Osbourne. They had a meet-cute that just set things off on an interesting note and watching as these two figured out that they were a perfect pair was great. Neither of them thought they would find love, thinking that they might eventually settle for a comfortable match. So to find someone who they connected with, both mentally and physically, was priceless. *dreamy sigh*
"I cannot believe the three of you think that this sixpence"–Bea thrust her hand forward, as if they didn't already know precisely what she was holding–"that this…this coin has supernatural powers."
"I'm not saying it does," said Anne… "I'm just saying I'm not convinced that it doesn't."
Four Weddings and a Sixpence was definitely an exciting anthology with intriguing characters who were woven intricately into each story with an expert hand by our four lovely authors. I think Regency fans will have a great time following along, watching how the magical sixpence changed the life of each member of the group when it was passed forward. Highly entertaining!
Book Info:

Publication: Published December 27th 2016 | Avon |
Beloved authors Julia Quinn, Elizabeth Boyle, Laura Lee Guhrke, and Stefanie Sloane deliver the stories of four friends from Madame Rochambeaux's Gentle School for Girls who find an old sixpence in their bedchamber and decide that it will be the lucky coin for each of their weddings…
"Something Old"
Julia Quinn's prologue introduces her heroine Beatrice Heywood and the premise for Four Weddings and a Sixpence.
"Something New"
In Stefanie Sloane's unforgettable story, an ever-vigilant guardian decrees that Anne Brabourne must marry by her twenty-first birthday. But love finds her in the most unexpected of ways.
"Something Borrowed"
Elizabeth Boyle tells the tale of Cordelia Padley, who has invented a betrothed to keep her family from pestering her to wed. Now she'll need to borrow one to convince them she's found her true love.
"Something Blue"
In Laura Lee Guhrke's story, unlucky Lady Elinor Daventry has her sixpence stolen from her and must convince the rake who pilfered the coin to return it in time for her own wedding.
"… and a Sixpence in Her Shoe"
Julia Quinn finishes with the story of Beatrice Heywood, who never believed that the sixpence was anything but a tarnished old coin until it led all of her friends to true love. But her faith in the coin is tested when it keeps sending her to the wrong man!