Her Client from Hell by Louisa George: Cassie was on the right track for getting her life back together. So why was she always making such a bad impression on Jack Brenner? She was never late to any other engagement, never any mishaps, but with him, it was always something. And never mind the fact that every time he looked at her the air just simmered.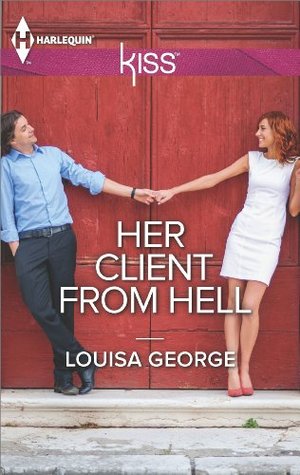 Lizzie and Callum's big day was very near, and Jack wanted it to be special. But his sister intended to do a lot of the work herself. When he found out that the sister of the subject of his latest filming project was a caterer, he figured he could at least talk to her – take the cooking burden off Lizzie's shoulders. He hadn't counted on the disorganized Cassie Sweet of 'Sweet Treats'. Always late, papers flying about, she had ditz written all over her.
But Jack had to admit, the more time he spent with her, the more he realized that Cassie was really good at what she did. So what if she didn't fit into his mold of what a 'professional' should look like. She was a free-spirit, and he no more wanted to change that than he wanted to make the sun stop shining. Her life and color was infectious, and he found himself laughing more than he ever had – and dammit – he wasn't sure he liked it.
At least they were honest with each other. No matter how much they wanted to kiss each other, it wasn't going to happen. Okay, after they kissed, it wasn't going to happen again. Well, they *definitely* weren't going to sleep together. Ugh, well, the sleeping together thing had to be just one night, definitely no falling in love.
Then Cassie had to go and ruin everything. She just *had* to stay honest and up-front. She told Jack that she had deeper feelings for him – that maybe, just maybe – she could be falling in love with him. That did it. Jack wasn't that kind of guy. He'd never be in love. Love meant having to care about someone that probably wouldn't be around tomorrow. Of course, Cassie just might be the person that would stick around to change his mind…
Man – I loved Sasha & Nate's book, "Backstage With Her Ex", and I also loved this one. We don't get to hear much about Sasha and Nate, but Jack and Cassie are adorable together. And Jack's sister Lizzie is a lovely addition to their "book family" as well. I could almost feel Cassie's vibrancy and color lift off the pages, while Jack's pain would sometimes reverberate when he tried to open up and failed.
I felt horrible for Cassie, trying to get her business back together on her own and struggling to accept help, even when it's given freely. I was uncomfortable when things went wrong every time she had a meeting with Jack, and that made me a little squirrley. One huge plus for me was how honest they were with each other. Kudos for another amazing story from Louisa George and KISS.
Book Info:

Published April 1st 2014 by Harlequin KISS
Her customer satisfaction guarantee…!
Cassie Sweet has a new mantra in her life: Failure Is Not an Option! Her good-for-nothing ex may have run off with all her money, but she's determined to make her new catering business a success. So no distractions. Nothing. Nada. Zero. Which means her infuriatingly rude (and exasperatingly handsome!) new client, filmmaker Jack Brenner, is definitely off the menu….
After all, while the customer may always be right, Jack's clearly every shade of wrong! So when his clothes end up on her bedroom floor, why do they look so right? And the biggest question of all: Is this a recipe for disaster – or the best mistake of her life?