Here and Now by Cheryl Etchison: The last time Lucky James had seen Rachel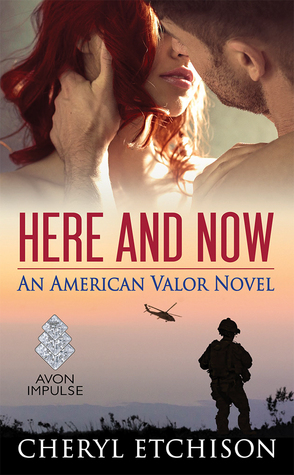 Dellinger, it was at the funeral of his friend and her brother, Army Pfc. Ethan Dellinger. Ethan, having idolized Lucky, followed him into the military, where he was killed in action and Rachel blames him. Fast forward six years, and Lucky has now left the Rangers and is working in the emergency room of the local hospital while attending medical school. Rachel is a nurse at the same hospital, and they meet again when she runs him over in the parking lot.
"So you're the idiot from the parking lot."
The smile was gone from Lucky's face this time when she looked up at him. Not that she could really blame him since she hadn't really meant to say that last little bit out loud.
That's when she heard him mumble something under his breath about her driving skills. Obviously he didn't think riding around on a bicycle in the almost dark didn't play a part in their little incident in the parking lot.
Knowing that they'll have to be working together, Lucky wants to eliminate the tension between the two of them.
At some point in time, he and Rachel would have to sit down like two responsible adults and hash things out between them. And when he asked his oh-so-helpful father for his advice on the situation, his old man suggested Lucky made sure their conversation did not take place in a parking lot. "Otherwise, she might just finish what she started."
I enjoyed how Lucky and Rachel didn't rush into things. They became friends first, taking the time to get to know one another, before becoming more.
She still found him to be attractive and was pretty sure the feeling was mutual, but for now, there were no games. They were simply friends with no pressure to become something more.
Lucky struggles back in the civilian world, and he debates re-enlisting. My only issue with him was that he makes his choice without even discussing it with Rachel. He knows she wouldn't want to leave her hometown, yet he doesn't include her in his decision making process.
This is the second book in the series but can be read as a stand alone. I have not read the first book but I didn't feel like I was missing anything because of that.
Here and Now is an enjoyable, well-written story. If you enjoy books featuring military heroes, then I recommend you try this one.
Book Info:

Publication: July 26, 2016 | Avon Impulse | American Valor #2
Former Ranger Medic Lucky James feels right at home working long night shifts in the ER, but less so during the day, when his college classes are filled with flirtatious co-eds. When his 19-year-old chem lab partner shows up at his work with dinner for "her Lucky," he quickly enlists the help of Rachel Dellinger, a nurse and fellow third shift "vampire".
Rachel is a people pleaser at heart, but she's finally decided enough is enough when it comes to her on-again, off-again boyfriend. When Lucky begs Rachel to help him ward off the advances of his teenager pursuer, she blackmails him into helping move her things out of the apartment she shared with her ex into a place all her own.
From there a friendship is born between two people just trying to make it through the night. Neither are living in the past or planning for the future. Until one day changes everything.