Kidnapping His Bride (The Renaldis #2) by Karen Erickson: Rafael Renaldi is the middle brother in the Renaldi family. He is hot, sexy and uber successful. Years ago when Rafe was a just a child, his father promised his good friend Carlo Campioni that Rafe would marry his youngest daughter Catalina. At the time, an arranged marriage in an Italian family was considered a done deal, especially when money changed hands.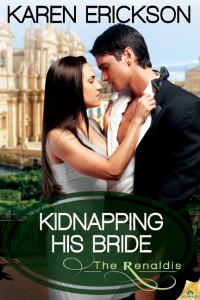 Although Rafe and Catalina have not spent much time together throughout the years, there is an undeniable chemistry between them, like they were meant to be together forever. Rafe has finally decided that now is the time to settle down and get married. Catalina refuses Rafe's offer of marriage, explaining that the arrangement from years ago has no merit and that his unfaithfulness is reason enough not to move forward. Rafe reluctantly agrees, but because he truly believes that they have a future together, he shows up at her home in the middle of the night and through the power of seduction and suggestion, convinces Cat to spend a few days with him at his place in New York City.
Cat wants an adventure and Rafe promises her that and more. Cat needs time away from her depressed mother and somewhat deranged older sister. Time alone in NYC does wonders for their blossoming relationship and they fall madly in lust and love. Upon their return to Italy, Rafe is arrested for kidnapping and Cat is declared mentally unstable. Luckily, with the help of a phone recorder, false promises, family, trickery, and really good acting, all's well that ends well.
As much as I love Karen Erickson's books and novellas, I found Kidnapping His Bride to be a disappointment. To begin with, the word "kidnapping" in general has a negative connotation, so I was slightly put off before I even started the book. Secondly, although Catalina is 23, I found that her thoughts and actions were those of a much younger girl, maybe 17 or so. Even a young woman of Catalina's age, dealing with a depressed mother, a tyrannical and overbearing sister, while co-managing a semi-successful business, has to have some level of worldly understanding, and Catalina comes across as a complete innocent, especially in the first half of the book. Lastly, the process of having an adult declared mentally unstable, even in a foreign country, is extremely difficult. While I found this storyline development unlikely, the remainder of the book was suspenseful, intense and heroic.
Book Info:

Expected publication: October 22nd 2013 by Samhain Publishing, Ltd.
Catch her if you can…
The Renaldis, Book 2
Rafael Renaldi is a modern man with an old-fashioned secret—an arranged marriage. Though it was an informal agreement, made when they were children, Rafe has always been a little in love with the beautiful, passionate Catalina Campioni. And assumed that the single, searing kiss they shared years ago sealed the deal.
Marriage? Babies? Not now—not yet. After growing up witnessing her mother's devastation over her father's cheating, Cat has no intention of settling down anytime soon. She plans to live life to the fullest before marching down the aisle—and it definitely won't be with womanizing, lethally charming Rafe.
When Rafe realizes his bride-to-be wants nothing to do with him, he does what a crazed man might do—he kidnaps her. But not to force her to the altar. She wants adventure? He'll show her adventure, and show her life with him will never be dull.
But even as they fall in love, someone close is desperate to keep them apart and will do whatever it takes to ensure they won't marry. Anyone. Ever…