In Kiss Me, Captain (French Kiss #2) by Gwen Jones, Marcel Mercier should be spending his days relaxing on a beach in Cannes instead of traveling to America to stop a young woman from making a fool out of his shipping company. Danielle Lloyd has decided to chain herself to the mast of her ship to protest the sale of the shipping company and the potential end of her career as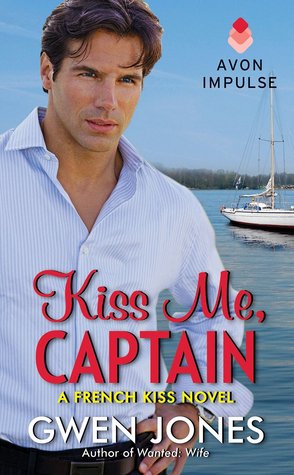 captain. Marcel decides to take matters into his own hands and use his many charms to convince Danielle to give up. But when she proves to be much smarter and more charming than he expected, Marcel might be the one thrown on his ear as he falls completely in love with the redhead.
"Oh, Danielle." When he kissed her, almost anything seemed possible, never more so than when he pulled her off the chest and gathered her in his arms. "Ma belle, I'm yours, you know that."
Captain Danielle "Dani" Lloyd has spent most of her time and all of her money in restoring the Esther Reed to her former glory. No way will she let Mercier Shipping take away her passion. No matter how astoundingly handsome its CEO Marcel Mercier is. After her stunt becomes front page news across the media, Dani is given the chance to take her ship on a voyage from Philadelphia to Boston to prove to the French billionaire just how well a woman can captain a ship. However, along the way she stops resenting Marcel and instead finds herself in deep emotionally. And she's not sure if she wants to walk away from it when they arrive at their destination.
'Somehow they had crossed an invisible line, and it was going to be very hard for either of them to go back. But they had to–he was still her boss after all.'
Kiss Me, Captain is a contemporary romance set on a historical ship with one strong & sassy heroine, and one billionaire playboy hero who never saw love coming until it was too late.
Book two in the French Kiss trilogy was all about Marcel Mercier and his adventures on the sea and in love. It's not necessary to have read book one, Wanted: Wife, to understand this story. But we do get to see Marcel's half-brother and sister-in-law, Andy and Julie, from book one and they are just as funny and outrageous as ever. I will say that there are a LOT of French phrases and dialogue in this story, not all of it being fully translated. Which, considering a good chunk of it was during the love scenes, might not have been a bad thing! 😉
Marcel turned out to be every bit the arrogant businessman he appeared to be, especially as he set out to dupe Dani out of her ship and her job, which really grated on me at first. I think I spent the first half or so of the book wanting to smack him. But–Marcel got his comeuppance about two-thirds of the way through when he realized he was head-over-heels in love with Dani. It completely messed with his plans and with his head trying to figure out how he was going to walk away from her when all was said and done. That was a lot of fun to read. And Dani…I kind of got whiplash a few times from her emotional mood swings with Marcel. I liked that she stood up for herself and her job and thought she was an interesting mix of sweet and feisty. I just wasn't always sure where her head was at with their relationship.
Overall, I think if you like romances where things might not start off on the right foot but ultimately end up exactly as they should, you might enjoy this one.
Book Info:

Published August 26th 2014 by Avon Impulse | (French Kiss #2)
French billionaire Marcel Mercier loves women. And there's a string of broken hearts across two continents to prove it. But as CEO of Mercier Shipping, he's got more important things to worry about . . . like why the charter company he just purchased in the United States is suddenly the center of an international media firestorm.
Now that big, bad Mercier Shipping owns Captain Dani Lloyd's ship, she's sure her job is at stake. But she won't go down without a fight—even if it means chaining herself to the mast of the Esther Reed and refusing to set foot on shore.
The delectable captain and her newsworthy dramatics are a PR nightmare, but Marcel is happy to let Dani prove her skills on a weeklong sail to Boston. He knows no woman can resist him for that long . . . in fact, he's counting on it.
But Marcel's plan to seduce Dani backfires as sparks fly between the billionaire playboy and the passionate captain. Which leaves Marcel realizing that winning her heart is a challenge he can't afford to lose.