In Lady Claire Is All That (Keeping Up with the Cavendishes #3)by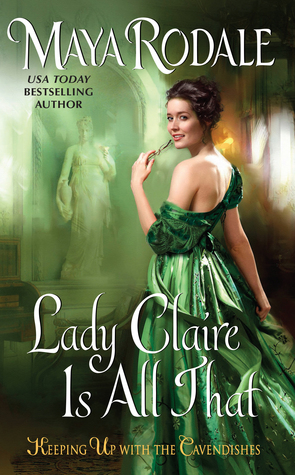 Maya Rodale, Mathematics is where American Claire Cavendish shines, not on the dance floors of society balls. But if she ever hopes to see her two younger sisters, Amelia and Bridget, married off, she'll have to learn to behave like a proper lady. She had dreams of meeting a duke with a similar mind for academics but somehow it is Lord Fox, a man who relishes sports and social events, who wants to court Claire. Something doesn't quite add up to her with this new attention thrown her way. She will have to figure the truth out quickly, though, before she loses her heart to the handsome marquess.
'Me plus you.
Such a simple equation that added up to something better than she could have ever imagined.'
Fox is no stranger to friendly wagers but the predicament he now finds himself in will likely not end well. So he decides that he can either curse his pride and the fact that he was left by his betrothed, or he can focus on turning Lady Claire into the newest darling of the Ton and win the bet. But Fox was not expecting to find the highly intelligent young woman to be so interesting and attractive. Even if he understands nothing of her chattering about math. He only knows that he must find a way to not only win his wager but to keep Claire in his life, one way or another. And convincing her to follow her heart instead of her head might be the biggest challenge of all.
'In truth, Fox did know some math–the kind a man used in real life.
A brush of hands + a quick backward glance + a coy smile – an audience * heart pounding desire = a kiss.'
Lady Claire Is All That was an absolutely delightful Regency romance that had me smiling and chuckling too many times to count. When a wager between two aristocratic friends unexpectedly caused one of them to fall in love with an American bluestocking, the fun and drama truly began.
"I want to be with you, Claire. Tonight. Tomorrow. Forever."
I was at a little bit of a disadvantage starting with book three in this series so I didn't get to see where Claire's sisters' stories began, but it was fairly easy to follow along. (I'm definitely going to read the first two books as well though. It was that much fun!) I have read and enjoyed Maya Rodale's writing in the past and was happy to find that this was every bit as lively and entertaining as I hoped it would be from the book synopsis.
One of my favorite parts, the comical thoughts and inner monologues from both Fox and Claire, fit them perfectly and made them seem real to me. But it was the personal growth they went through that ended up being my overall favorite part of the story. I wasn't so sure about Claire at first as she came across as a bit of a know-it-all and almost seemed like she was putting Fox down for not being more academic. But I enjoyed how time spent with the marquess made Claire truly pay attention to her feelings and her heart instead of her brain for the first time in her life. That made her a much more relatable character for me.
Claire and Fox were a good example of opposites attracting, as was mentioned a few times in the story. On paper, they shouldn't have worked together as a couple but their attraction was undeniable. I loved that it was the differences in their personalities that they found intriguing about each other. Fox with his athletic abilities and kind, generous heart. And Claire with her pragmatic personality and brilliant mind. The passion between them as they tried to make sense of their connection was wonderfully detailed and made me believe in their attraction. But even in the moments when Fox or Claire became exasperated I thought you could still feel that bond they had formed.
Historical romance fans will be sure to have a great time reading this newest offering in the Keeping Up with the Cavendishes series. Between the hysterical family dynamics, the friendships being tested, and the unique love match that was Lord Fox and Lady Claire, I think readers will breeze right through the pages and enjoy every second of it.
Book Info:

Publication: December 27th 2016 | Avon | Keeping Up with the Cavendishes #3
Her Brains
Claire Cavendish is in search of a duke, but not for the usual reasons. The man she seeks is a mathematician; the man she unwittingly finds is Lord Fox: dynamic, athletic, and as bored by the equations Claire adores as she is by the social whirl upon which he thrives. As attractive as Fox is, he's of no use to Claire . . . or is he?
Plus His Brawn
Fox's male pride has been bruised ever since his fiancée jilted him. One way to recover: win a bet that he can transform Lady Claire, Society's roughest diamond, into its most prized jewel. But Claire has other ideas—shockingly steamy ones. . .
Equals A Study In Seduction
By Claire's calculations, Fox is the perfect man to satisfy her sensual curiosity. In Fox's estimation, Claire is the perfect woman to prove his mastery of the ton. But the one thing neither of them counted on is love . . .