Intense, heartbreaking, inspirational, thought provoking, these are all things that come to mind after I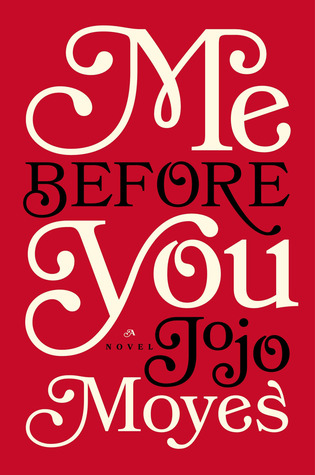 read Me Before You (Me Before You #1) by Jojo Moyes. There are books that everyone must read, they might not be pretty, they might not end the way that you would hope, they might leave you feeling emotionally drained, but this book is one of those books that everyone, no matter who you are, must read, must experience once in your lifetime.
On the surface Louisa Clark might not seem like much. She has lived in the same town all her life, has worked at the same job all her life, has helped support her family, is reliable, dependable, and in the eyes of some, might seem a little boring. That is until she looses her job, is forced to look for work, and finds it in the most unexpected place, as caregiver to a accident victim, Will Traynor.
Will Traynor has live a BIG life. Risk taker, hot shot financier, thrill seeker, until that fateful day when all of that ended and he finds him self a quadriplegic, confined to a life in a wheel chair. Knowing that his life is never going to be the same, that he will never recover, never experience the joys of being free again, Will knows how to make the pain stop, knows the decisions that he needs to make and the choices that he needs to face.
What he does not count on is the bright and brilliant colors that Lou brings to his life. She gives him a reason to laugh, a reason to smile and at times a reason to forget, just for a little while, what his life has become. When Lou finds out what Will is planning, it will take all of her strength, all of her faith, and all of her creativity to try and show Will that life is worth living, that he has a reason to live, a chance to love, and that if he just has a little faith, he might find joy in life again.
Will, Lou, Nathan (the male medical caretaker), Treena, Thomas, Patrick, Lou's Family, and Will's Family all touched my heart, and my mind in different ways. At times I was angry with them, at times they made me laugh, at times they brought me to tears, but they all weaved together to make a beautiful story.
Will and Lou, they seemed to hate each other in the beginning of the story. Will was so cross and Lou was timid and frightened. But as the story progressed, they hit their stride. Will pushing Lou to experience life, to dream BIG, to think of the future and reach for the stars. Lou pushed Will to join her on her journey outside the walls of the safe little town that they live in. Insisting that if he is going to push her to do something, that he needs to join her. The dynamic between these two shifts through the story and the friendship that they have forged blossoms into a love story that will in the end transcend time.
I was honored to read this book, I was humbled by reading this book, and in the end, I think that in a small way my life has changed after reading this book. Me Before You (Me Before You #1) by Jojo Moyes is MUST READ for everyone.
Book Info:

Published December 31st 2012 by Pamela Dorman Books/ Viking | (Me Before You #1)
Lou Clark knows lots of things. She knows how many footsteps there are between the bus stop and home. She knows she likes working in The Buttered Bun tea shop and she knows she might not love her boyfriend Patrick.
What Lou doesn't know is she's about to lose her job or that knowing what's coming is what keeps her sane.
Will Traynor knows his motorcycle accident took away his desire to live. He knows everything feels very small and rather joyless now and he knows exactly how he's going to put a stop to that.
What Will doesn't know is that Lou is about to burst into his world in a riot of colour. And neither of them knows they're going to change the other for all time.