In Most Eligible Sheriff by Cathy McDavid, Ruby McPhee is a Vegas casino manager. She has worked very hard to rise in her job and be where she is. Unfortunately, a man could not take no for an answer and became a very persistent stalker and almost ended up killing her. Now Ruby needs to lay low until they have to go to court, and the best way to hide is to take her twin sister's place at the Gold Nugget Ranch in Sweetheart, Nevada while her sister goes on a trip to San Diego with her on and off again boyfriend.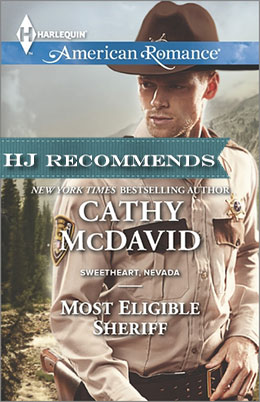 Cliff Dempsey is nervous about asking Scarlett out to the dance. He knows that his aunt, the mayor, wants him to ask Scarlett to marry him in order to get more people to sign up for weddings in Sweetheart. While he likes Scarlett, he doesn't feel any passion towards her and knows that things are mostly based on a friendship.
When Cliff first sees Scarlett after waiting for her in the kitchen at the Golden Nugget, he notices things that he had not before. There is something about the way she walks that calls to him, things he had never noticed before. But when he notices a tattoo that he knows she did not have before and that is certainly not new he knows that something is up. So to cinch it he approaches her and kisses her, and he immediately knows that she is not Scarlett.
Ruby knows that she cannot lie to the sheriff about who she is and why she is there. She just wishes that Scarlett had told her that she had been dating the sheriff. So she tells him everything and puts him in touch with the detective helping her with her case.
Once Cliff knows what is going on he knows that he cannot tell anyone that she is not Scarlett, for that would put Ruby in danger. The fact that he is more attracted to her than he was to Scarlett in all the time they knew each other, and as Scarlett she will have to continue dating him may have some weight on his decision too. But he must tell the key people that may be put in danger and that will help keep a lookout for Ruby's safety.
What neither Ruby nor Cliff thought was that things would get complicated when their own emotions come into play. Cliff has already been in a similar situation before and he doesn't want anyone to think that he is not professional. But that will only put his relationship with Ruby at risk.
When things get complicated Cliff will retreat into himself and push Ruby away, which will only lead to heartbreak for them both. But no matter what Ruby cannot forget him or the people in Sweetheart. Which will lead to her taking a huge risk at work to help the ones who helped her, even after they all turned their back on her. But will Cliff find the courage to fight for what he really wants or will he let Ruby and his chance at true happiness go forever.
For a intriguing, fun and emotional read, don't miss Most Eligible Sheriff by Cathy McDavid.
Book Info:

March 4th 2014 by Harlequin American Romance Series #1490
Las Vegas casino manager Ruby McPhee needs to lay low while the police deal with a stalker at work. So she's trading in her high heels for cowboy boots and assuming her twin sister's identity at the Gold Nugget Ranch. Ruby only plans on staying in Sweetheart, Nevada, until the threat back home has passed. But then she discovers a detail her sister forgot to mention—the handsome sheriff she's dating.
It only takes a single kiss for Cliff Dempsey to realize the woman in his arms is someone entirely different…and completely irresistible. To protect Ruby's secret, Cliff maintains her ruse, but soon the lines between duty and desire begin to blur. Ruby and Cliff know they have a once-in-a-lifetime connection, but will they have a chance to let their love grow?