Remember Love (The Forever Love Series #1) by Riley Rhea: What can I say about this book that would do it the justice that it deserves. This book is about allowing the person that you love more than life itself the time, space and freedom to "Remember Love". This book moved me, it made me laugh, it made me cry, it made me believe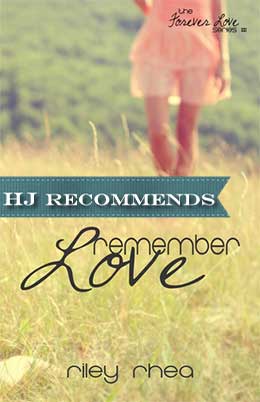 that love never ends. Allow me to tell you a little about this AMAZING book.
This is the story of Tucker and Brenna. They have been best friends forever and then they weren't anymore and Brenna never understood why. Now she is finishing up with school and returning home to try to figure out what to do with her life, what she didn't count on was running into Tucker again.
Tucker has loved Brenna since the moment he laid eyes on her, but knowing that she was younger than he is, he decided to wait until the time was right. But Tucker waited too long and thought that he might have lost his chance with Brenna, until she shows up again. Now all he needs to do is give her time and help her remember the love that they shared and the promises that they made before she went away.
This is one of the sweetest, most amazing stories that I have had a chance to read in a very long time. For a first time author, Riley Rhea hit this one out of the park. I look forward to many more stories from this amazing author.
Book Info:

Published October 31st 2013 | (The Forever Love Series #1)
They say you can never go home again. Brenna James is about to finish her final year of college when a visit home could change everything. Fate was pushing her towards her childhood best friend, Tucker, leaving Brenna no other option than to remember memories from a time once forgotten. Can Tucker slip himself into her heart? Will he be able to show her his feelings? The biggest question is, can Tucker help Brenna remember love?