Scoring with Santa by Theresa Roemer, Renee Rose: Okay so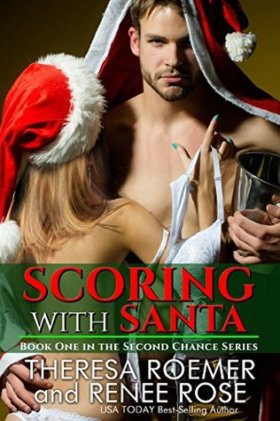 normally I start every review with a brief synopsis of the story. I can't do that with this one. I have to start off with go get this book. Seriously. You need to add it to your collection.
The story itself is wonderful and intense. It's erotic without being over the top, it's romantic without being sappy and it's real without being dreary. The very basic gist is a former football player who doesn't date women with kids finds himself VERY attracted to a women with not just one but two children and one of which is trying out for his football team. Not that the woman doesn't have her own problems/issues she carries but the heat is too intense for much to not get burned in-between.
In all seriousness though this may be the best holiday romance I've had the pleasure to read all season long.
Book Info:

Publication: December 20th 2016 | Riverdale Avenue Books | Second Chance Series #1
A career-driven mom. Houston's most eligible bachelor. The irresistible attraction could destroy both their careers.
Rick Morehouse doesn't date single moms. As the former quarterback for the Houston Texans, he's Houston's most eligible bachelor. But after the heartache of abandonment by his own mother's string of boyfriends, he never wants to hurt anyone's kids that way. When he meets Brandy Love, the drop-dead gorgeous owner of Phenomenal Physiques, he's totally taken by the confident career woman. It's too bad she has kids.
Brandy Love doesn't have room in her life for a relationship. Opening a chain of gyms and parenting her kids already takes more time than she has. But when Coach Charming drops in on her gym, she's sorely tempted.
When vengeful columnist roasts Rick to bring down his team at the playoffs, Brandy must decide if he's worth fighting for. But even if she can save him, will he accept her and her kids in his life?
Devour this sexy and sweet holiday page-turner today!