Sweet Obsession (Windy City Kink #1) by Kelly Jamieson: Twelve years ago, teenagers Sasha Bandel and Jack Grenville were caught experimenting with light bondage by Sasha's parents. As a result, Jack was forced out of town by Sasha's powerful and wealthy father, with orders to never to contact her again. Sasha was devastated, because she did not understand why the love of her life would just disappear, without even a note, email or text. Her parents, especially her mother, made her feel ashamed of her sexual preferences and overtime, Sasha began to believe their dribble. So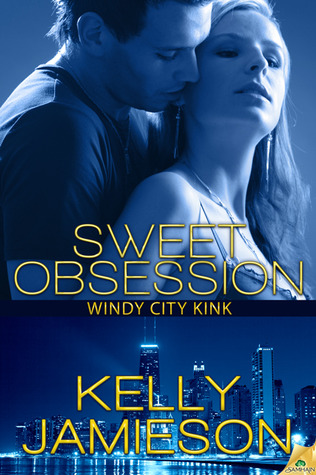 these days Sasha's dates are typically blah and lack spark.
Now Jack has returned to the glorious city of Chicago, an extremely successful and wealthy internet security expert. He is a self-made millionaire and his company is thriving. He worked very hard to achieve what he has, and in the process discovered a form of martial arts which keeps him grounded. Sasha owns her own landscaping company that specializes in rooftop gardens. She is very talented and has a few projects on the horizon, however, her business is struggling because a huge client stiffed her. She just needs a little cash to get her company through this dry spell.
Jack wants Sasha and he wants her badly. He also wants a rooftop garden, to complete his 3400 square foot penthouse. Their initial meeting is quite awkward, yet exciting at the same time. After twelves years of separation, there is still a magnetic force between them. They have both changed so much over the years, but their need for each other has never waned. Neither has found their one and only because they are both still enthralled with each other. After much thought and deliberation, Sasha agrees to design Jack's roof.
Sasha and Jack were made for each other. Their time together evolves into scorching sex, over and over again. Unfortunately, Sasha is having difficulty accepting some of Jack's kinkiness, even though she is enjoying it at the same time. No wonder she is questioning both her and Jack's attraction, if something is drilled into your head over and over again, it is hard to just forget and in this case, concentrate on pleasure.
This book is ultimately about the struggle between what we are taught is right and what we feel is right for ourselves. Of course societal norms contribute to our thought processes as well and assists with our choices. It may sound philosophical, but it is not. It's just human nature.
I liked this story. It is hot, seductive and the sex scenes between Sasha and Jack are beyond steamy. Ms. Jamieson is an excellent storyteller, with the ability to perfectly balance eroticism with a solid plot. Sasha's passion for sweets is a yummy theme woven throughout the story. I especially liked Kevin, Sasha's roommate and best friend. He is a real man with a calling that most people would not understand. Non-vanilla sex is Sasha's calling, so she and Kevin are a little different than the societal norm, which bonds them together as friends. I found this book to be a little too long for its content, and as a result, my attention wavered a lot. Overall, a good, hot read.
Book Info:

Publication: April 1st 2014 by Samhain Publishing, Ltd. | (Windy City Kink #1)
Sasha Bendel is a bundle of nerves as she knocks on the door of a Gold Coast penthouse. Her landscape design business took a hard hit when one of her biggest clients defaulted on his payment, and she desperately needs this rooftop garden design project to get back in the black.
But when her potential client answers the door, she's stunned. It's her old high school boyfriend, the one her wealthy parents ran out of her life when they were discovered engaging in some youthful exploration of bondage and discipline.
Twelve years ago, Jack Grenville let Sasha's powerful father intimidate him into giving up the love of his life. With the help of a sensei, he's overcome his obstacles and accepted his sexual dominance. Now he's back in Chicago to claim what's his—Sasha.
One look at Jack brings back all the forbidden desires Sasha's put on lock-down since that shameful night. No way can she turn down this money-is-no-object job…but can she resist Jack's no-knots-barred determination to recapture her heart?