In Tangled Up in Tinsel (Sunshine Creek Vineyard #3) by Candis Terry, Chef Parker Kincade would do anything for his family.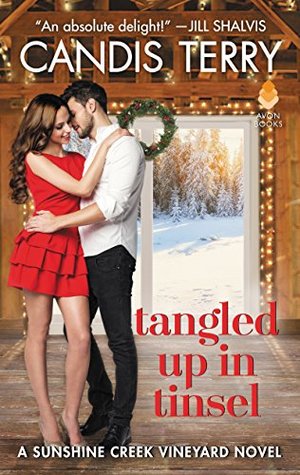 Especially after the grief he caused them back when he was an unruly teenager. So with his food truck firmly established in Portland and opening a new restaurant on the family property back in Sunshine Creek, he has his work cut out for him. On top of all that, Parker's brother is hounding him to finish the restaurant on time for his Christmas wedding reception. So the day Gabriella Montani walks in to apply for a job in his kitchen, he wants to say yes, desperately needing the help. But Parker knows from the sparks that immediately fly between them that he'll have to be careful or risk getting way too involved with a beauty who will be sure to wrap him around her talented fingers.
'He'd thought falling in love would be a big deal that would force him to change his life. In reality falling in love with Gabriella was like slipping into a big warm bed and sighing because it just felt so damned good.'
Gabi has been waiting for the day when she could prove her worth as a chef and she's sure working for Parker would be a perfect fit. It turns out they have similar thoughts and tastes in the kitchen–as well as in the bedroom, when things go from a simmering boil to a raging inferno between them. As difficult as it is, Gabi tries to keep her eyes on her career and in helping Parker get his restaurant up and running. And while she's helping him make great strides on the business side of things, as well as getting his brother's wedding on track, she's afraid their agreement on keeping their personal connection casual will cause problems. Gabi hopes Parker will prove to be the one man who won't let her down as she contemplates confessing the true depth of her feelings for him. But is it worth the risk?
'Not every princess needed to be rescued. Sometimes she rescued herself. And sometimes she rescued the prince.'
Tangled Up in Tinsel was Candis Terry's new holiday romance that featured a couple who were absolutely perfect for each other–and who kept me smiling with their entertaining (and steamy!) bantering the whole way through.
"How am I going to get this tree right?"
"A little more to the left."
"That's not what you said last night."
"Parker Kincade, you have a one track mind."
"Guilty. Because if I'm going to be tangled up in tinsel, it's going to be with you."
I always have a great time reading anything by Candis Terry. But Tangled Up in Tinsel bumped things up a notch, bringing us back to Sunshine Creek and following up with the Kincade family since their world imploded with the loss of their parents. Now this installment finally explains *everything* the siblings were never told about their parents' marriage and the secrets withheld from them all. It's bittersweet, but it was nice to see that resolution so the family can hopefully move on and heal together. Family issues seemed to be the theme, with Parker comically having to keep his brother Jordan, whom they all dubbed Groomzilla, stay on task planning a wedding for his bride-to-be. And Gabriella also had some serious issues to overcome in regard to her parents–which made things complicated between her and Parker.
Gabi and Parker's romance was just so much fun, though. Oh my goodness, between the hilarious conversations they had and the way they teased, both to make each other laugh and to turn each other on, I had a blast with them. Gabi was a take charge, intelligent, super caring woman who went after the career and the man she wanted with focus and determination. I loved that. But she was also looking out for Parker from day one, seeing his talent and how spread thin he was with all of his commitments. I didn't blame Gabi for withholding some details about her family even though it blew up in her face later on. I thought she had her reasons and that she was trying to keep Parker from having to deal with one more issue in his already jam packed world.
I adored Parker just as much as Gabi did. He was a wonderful guy who loved his family deeply and would work himself to death if need be to make sure their business succeeded and his siblings were taken care of. I loved his scenes with his younger sister and how Parker protected her but still nudged her to stand on her own two feet. And his relationship with Gabi? Ridiculously hot. Seriously…they had instant chemistry and just hit it off right away. I love watching confident guys get knocked over the head by love and that's just what Gabi did upon entering Parker's life. They had so many great scenes together but I think my favorite one was the karaoke incident which showed off their attraction as much as it did their true intense feelings for each other. Sigh…
You just have to love a holiday story that's full of uplifting romance, family antics, and has a comforting small town feel to it. I think whether this is read alone or as part of the series, Tangled Up in Tinsel will be a winner for romance readers this holiday season.

Book Info:

Publication: Published September 26th 2017 | Avon | Sunshine Creek Vineyard #3
Meet the Kincade brothers: they'll go to any lengths to protect their legacy—
but what happens when love gets in the way…?
As if the holidays weren't stressful enough, Parker Kincade has a restaurant to open. The fact that his Groomzilla brother wants the place for his perfect Christmas wedding doesn't help. Then there's the stunning woman who appoints herself his new chef before he's ready to hire one. But one look at Gabriella Montani has Parker reassessing needs vs. wants. And that's before he tastes what she has to offer…
Gabriella doesn't need to get tangled up with a sexy man. What she needs is a job and a chance to prove herself. A place in Parker's kitchen could give her the opportunity she's been waiting for. The heat between them is sizzling, but a place in his bed could be downright dangerous. Neither Christmas nor men have ever lived up to her expectations, but Parker has soulmate written all over him. Should Gabi let herself be swept up in his holiday magic, or will it disappear before Christmas Day?