In The Hating Game by Sally Thorne, Like most working adults, Lucy Hutton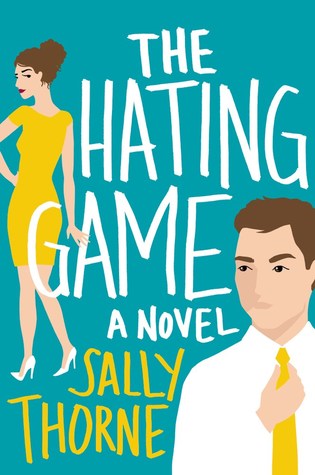 spends much of her waking hours at her job, which she mostly loves. Working for a publishing house is a dream come true. Working in the same office as her nemesis Joshua Templeman? Not so much. Especially since they spend their days goading one another, playing silly games and generally trying to make life miserable for each other. At this point it's difficult to remember who began the nonsense. Lucy is sure, though, that she will be the victor.
"I didn't ask for your advice, Joshua. I get so mad at myself, letting you drag me down to your level all the time."
"And what level are you imagining me dragging you down to?" His voice is a little velvety and he bites his lip. "Horizontal?"
Then two things happen that drastically change Lucy's relationship with Joshua. First, they find out they are both up for the same promotion so the stakes become much higher in their office war of wits. Second, Joshua kisses Lucy in the elevator. And that just completely throws her for a loop. She thought he hated her and that was the reason behind his moody, grumbly attitude at work. But maybe there's more to it than meets the eye. Now Lucy is torn between going after the promotion so she can hold it over Joshua's head, or seeing if there really is something romantic between them.
'I love the energy we create between us when we banter like this. It's the most intense sensation of pleasure, knowing he'll always have the perfect response ready.'
The Hating Game turned out to be quite a lovely adventure. It evolved from a tense, almost hateful relationship between co-workers to a fun, sexy romance that had one of the sweetest most swoon-worthy endings ever. Not bad for a debut novel, right?
'I stare at the ceiling and admit the astonishing truth to myself.
I don't hate Joshua Templeman.'
I have to first say that this was an impressive offering from a first-time author. I really loved Sally Thorne's storytelling ability and her overall writing style. It was modern, emotionally rich, age-appropriate for the characters, and just had me captivated from page one. And I'm totally serious when I said that we went on an adventure here. This was a narrative from Lucy's witty POV, so we basically evolved with her as she worked through her emotions and grew tremendously as an individual.
Lucy was an awesome character, in my humble opinion. She was funny, impressively smart and she stood her ground with her nemesis Joshua. Now, I'll be honest. I'm not always a fan of antagonistic relationships, whether they're romantic in nature or not, although it worked exceedingly well in this case. Things started off shaky between Lucy and Joshua. He made their working environment uncomfortable and sometimes downright hostile. But I liked how everything progressed. And there was a reason for how Joshua behaved. A really good one…that I unfortunately can't mention or it will spoil the last half of the book. (Sorry!!)
Suffice it to say that things do move on from being all-out war between Joshua and Lucy to sizzling hot, thanks to one steamy kiss in an elevator. * dreamy sigh* So don't write Joshua off as being a jerk until you read this through to the very end. It made all the difference in the world and had me (and Lucy) singing his praises. Really. Thankfully he winds up being a multi-layered character who had a lot more going on–and going for him–than it at first seemed.
The Hating Game is one of the most entertaining and clever workplace romance novels I've read in a long, long time. I think readers are bound to laugh at Lucy and Joshua's crazy antics and fall in love right along with them. Highly recommended.

Book Info:

Publication: August 9th 2016 | William Morrow Paperbacks |
Debut author Sally Thorne bursts on the scene with a hilarious and sexy workplace comedy all about that thin, fine line between hate and love.
Nemesis (n.) 1) An opponent or rival whom a person cannot best or overcome.
2) A person's undoing
3) Joshua Templeman
Lucy Hutton has always been certain that the nice girl can get the corner office. She's charming and accommodating and prides herself on being loved by everyone at Bexley & Gamin. Everyone except for coldly efficient, impeccably attired, physically intimidating Joshua Templeman. And the feeling is mutual.
Trapped in a shared office together 40 (OK, 50 or 60) hours a week, they've become entrenched in an addictive, ridiculous never-ending game of one-upmanship. There's the Staring Game. The Mirror Game. The HR Game. Lucy can't let Joshua beat her at anything—especially when a huge new promotion goes up for the taking.
If Lucy wins this game, she'll be Joshua's boss. If she loses, she'll resign. So why is she suddenly having steamy dreams about Joshua, and dressing for work like she's got a hot date? After a perfectly innocent elevator ride ends with an earth shattering kiss, Lucy starts to wonder whether she's got Joshua Templeman all wrong.
Maybe Lucy Hutton doesn't hate Joshua Templeman. And maybe, he doesn't hate her either. Or maybe this is just another game.