In The Saint (The Original Sinners #5, The White Years #1) by Tiffany Reisz, Fifteen year old Eleanor Schreiber's life is about to be changed forever by going to church. When her mother drags her out of the house that momentous Sunday, she meets the man who will open up an entirely new world to her. One she never realized she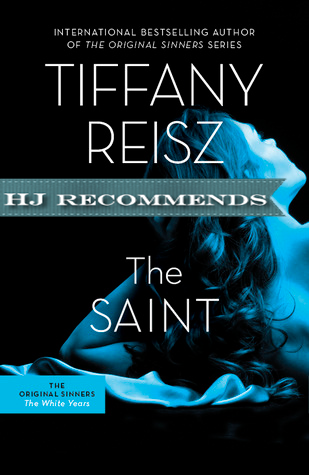 wanted to be a part of. And the man? He's not only about thirteen years her senior, but he's their new priest: Father Søren Stearns.
'This man, this most beautiful man she'd ever seen in her life, this man who was the incarnation of her every hunger, every desire and every secret midnight dream…This man was her new priest?'
There is a darkness in Søren that Eleanor relates to completely. While he is wise beyond his years and so very patient with her questions, she wishes there could be more to their relationship. The day arrives when Eleanor needs Søren's help in a major way. He is there for her, promising to do whatever it takes to keep her safe and out of danger. But his price is to introduce her into a bond that no one will be able to break. A connection where he will one day reign supreme over her body and her decisions.
'He inhaled sharply as if he registered her pain inside his own body. He experienced her pain as his pleasure. Let him hurt her, then, so he could feel the pleasure of it. Let him destroy her so she could be reborn.'
The Saint is a tough book to explain. And it is especially difficult to put into words the layers of complex emotions author Tiffany Reisz brings out in her characters, and ultimately, her readers. I can narrow it down by saying I was absolutely captivated by Nora's tale in every way.
I will admit to not having read anything previously in the Original Sinners series, so this prequel novel was hard to figure out at first. The blurb shows the story being about Eleanor, a teenage girl, and the book begins with Nora in her mid-thirties. So I was a wee bit confused. But I quickly figured out that Nora and Eleanor are one and the same. I loved the way Ms. Reisz introduced us to the backstory of Nora and Søren , so effortlessly switching back and forth from the past to the current day by presenting it as Nora telling her story to a dear friend. And the writing style here was flawless. The scenes flowed in a natural manner and I thought the dialogue was snappy, witty, and so, so very sexy.
But I think what I loved most about The Saint is how tangled up Nora and Søren (and Kingsley) were. There were so many things standing in their way: religion, family, age, local parishioners. But I knew there was no way they wouldn't all end up as their own family of sorts, loving and cherishing each other until the end. It was very powerful. Now, I know the BDSM element will scare some people off, but the underlying story to me was not of pain, per se. It was of being found. Nora found herself when she was immersed in Søren and Kingsley's world. And I loved how Søren could finally let go of some of his painful past thanks to Nora's love and acceptance of who he truly was. They had some very touching, loving moments that were quite breathtaking. Ones that will stick with me for a while
I think fans of The Original Sinners series will be overjoyed with The Saint. It's not only an erotic story…it's a love story that transcends age and what is deemed acceptable by society.
Book Info:

Published June 24th 2014 by Harlequin MIRA | (The Original Sinners #5, The White Years #1)
In the beginning, there was him.
Gutsy, green-eyed Eleanor never met a rule she didn't want to break. She's sick of her mother's zealotry and the confines of Catholic school, and declares she'll never go to church again. But her first glimpse of beautiful, magnetic Father Søren Stearns and his lust-worthy Italian motorcycle is an epiphany. Suddenly, daily Mass seems like a reward, and her punishment is the ache she feels when they're apart. He is intelligent and insightful and he seems to know her intimately at her very core. Eleanor is consumed—and even she knows that can't be right.
But when one desperate mistake nearly costs Eleanor everything, it is Søren who steps in to save her. She vows to repay him with complete obedience…and a whole world opens before her as he reveals to her his deepest secrets.
Danger can be managed—pain, welcomed. Everything is about to begin.