In The Scottish Duke (Duke Trilogy #1) by Karen Ranney, Working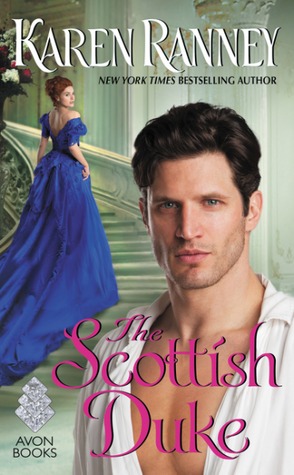 in Blackhall Castle in Scotland as a maid, Lorna Gordon has made peace with her lot in life. For the most part. Although she can't help but dream of the Duke of Kinross, Alex Russell, whose family lives in and owns the castle. One fateful night Lorna's dream comes true when she sneaks into a masquerade ball dressed as Marie Antoinette and catches the Duke's eye. For one night she is the object of his desire and finds out how strong of a connection they share. But what happens afterward threatens to change both of their lives forever in ways that she can never begin to imagine.
'Tonight was a dream come true. Tonight was the culmination of two years of watching and wondering. Tonight she wasn't just one of the upstairs maids; she was Lorna Gordon and she was kissing the Duke of Kinross.'
Alex has spent years pursuing scientific studies and fulfilling his ducal duties while avoiding emotional entanglements, aside from with his family of course. It never occurred to him to remarry after the death of his first wife, given how tumultuous their relationship was. And he's definitely never been a womanizer like his Uncle Thomas. But Alex is tempted by a mysterious, beautiful lady at the masquerade and knows he must have her. Even if it is only for the night. It turns out to be one of the most fortuitous choices he has ever made, bringing Lorna into his life. But as much as he is attracted to her intelligence and her charms, he's afraid that to be near her would mean he would fall in love with her. And he can't let that happen.
'She made him feel too much. All sorts of emotions were knocking on his door, emotions he'd been able to control before Lorna came into his life. The threat was there that he would feel even more.'
The Scottish Duke was a Victorian era romance that truly exceeded my expectations. I thought it would be a dependable novel between a duke and a commoner on their path to love. And while that was true, the characters were quite different than I thought at first glance, with issues that put them at odds through a good deal of the story. But it was their relationship that evolved slowly over the course of a year or so that ultimately had me captivated.
"Nothing about our relationship has been normal from the beginning," he said.
"Is that a bad thing?" she asked, watching him.
His eyes were closed, but a smile was curving his mouth.
"It is the very best thing," he said.
It's a little bit difficult to describe this story without giving too much information away. But it basically boiled down to one magical evening between Alex and Lorna that altered their lives forever after and how they dealt with everything that their tryst set into motion. I liked how right away author Karen Ranney showed us that neither Lorna nor Alex were perfect or that they even thought they were perfect in any way. There was such a real human element to everything that happened, good and bad, in this story that it made the characters come to life on the pages and had me cheering them on to finally get to where they were in tune with each other.
I came to think of Alex as the runaway duke, in that he avoided emotional relationships at all costs. Generally by traveling to one of his other homes and working on his scientific projects away from everyone. I will admit to being frustrated with a big decision he made in terms of how he handled Lorna as well as some of the things he said. But once we got to see what Alex had endured in his life it was clear that he had reason to be distrusting and to not want to form attachments. I did like how he opened up emotionally toward the end of the book. And that he was portrayed as a sexy alpha male with a brilliant academic mind. Not a bad combination, right?
Lorna turned out to be a strong, capable, completely independent woman who was also academically minded as well as a gifted artist. I liked that she had the courage to have her one night to shine when she attended the party secretly and went after her dream man, Alex. It was a rather foolish move that could have led to her being fired from her job at Blackhall Castle. And it certainly changed the course of her and Alex's lives. But watching Lorna's feelings change from an intangible crush to a full-fledged love affair with the duke was so very satisfying. If anything, it made her stronger and more self-assured but at the same time even more protective and caring in the process.
The Scottish Duke was a scandalous tale filled to the brim with intriguing characters you'll fall in love with and a storyline that was given room to breathe and grow. Set in the lovely Scottish Highlands with the perfect amount of family drama, I think readers will be sure to love this first book in the Duke trilogy.

Book Info:

Publication: Published November 29th 2016 | Avon | Duke Trilogy #1
New York Times bestselling author Karen Ranney returns with the first novel in a new series about dashing, charismatic dukes—and the women who tame them…
Though raised as a gentleman's daughter, Lorna Gordon is obliged to take a position as an upstairs maid at Blackhall Castle when her father dies. Alex Russell, the Duke of Kinross, is the most tempting man she's ever seen—and completely unattainable—until, at a fancy dress ball, Lorna disguises herself as Marie Antoinette and pursues an illicit tryst…with scandalous consequences.
Months after his mysterious seductress disappears, Alex encounters her again. Far from the schemer the distrustful duke assumed her to be, Lorna is fiercely independent and resourceful. She's the one woman capable of piercing his defenses. But when danger threatens Lorna, Alex must prove himself not just the lover of her fantasies, but the man who will fight to protect her.