In The Texan's Little Secret by Barbara White Daille, Carly Baron came back home to help her family during her father's recovery. But coming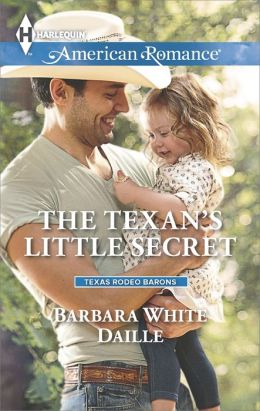 home was not her best decision considering that it brings her closer to the seeing Luke Nobel, her first love and the man that broke her heart seven years before.
Staying away from the Roughneck ranch was Carly's best bet to keeping her secret and painful memories at bay, but being back home now and so close to Luke and his daughter only make it more difficult. Now she is trying to avoid him at her family's busy ranch, but no matter how much she wants to avoid him, the ranch is only so big, and she will come face to face with him soon enough, and have to face the truth of her feelings.
Luke would have preferred if Carly had stayed on the circuit and away from the ranch. Having her so close to him is not easy, it brings back his old feelings and the sparks that never really stopped flying between them. But he is already busy enough as it is managing the Roughneck ranch and raising his two-year-old daughter. Having such a strong attraction and resisting Carly will be nearly impossible now.
Carly grew up as the wild child of the family, always up for something new and different yet never settling on any one thing. Now that she is back home she is back to playing her old role, and hiding what is deep underneath it all, all her insecurities and her feeling of not fitting in. To make matters more interesting, even as she is there and having to interact with Luke she has to hide the truth of the past, one that makes her keep her distance from Luke's daughter in case she breaks down, but this only makes things with Luke more complicated.
Luke and Carly's past decisions made a big difference on the present, and unless they open up about the past and put it to rest they will not be able to move on to their future. But they have many things to discuss and to grieve over together, as well as things to help each other with now. Like the ongoing search for Carly's mother and the reason she left them all.
If you want a sweet and heartwarming read, don't miss The Texan's Little Secret by Barbara White Daille.
Book Info:

August 1st 2014 by Harlequin American Romance Series #1510
Hiding the Truth
Coming home might be the worst decision Carly Baron has ever made. Each minute on her family's busy ranch is one minute closer to seeing him—her first love—the man who broke her heart seven years ago. While coming face-to-face with Luke Nobel again brings back painful memories, Carly quickly realizes there are other strong feelings just under the surface….
Luke would be a lot better off if Carly had stayed away. Being a single dad to an adorable two-year-old girl and managing the Roughneck is tough enough, but resisting the sparks that fly whenever he and Carly are together is near impossible. But first she must tell him her secret. The truth could heal their past…or forever destroy their chances of becoming a family.