In The Texan's Surprise Son by Cathy McDavid, Jacob Baron gets the surprise of his life when he is approached by a woman after a rodeo, but not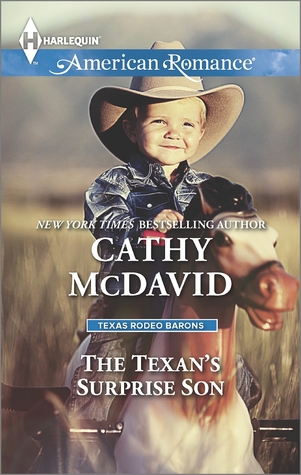 to hook up but because she wants to talk to him. At first he was planning on declining, but there was something that made him accept to talk to her, while she gave him a ride home. To his surprise he finds out that he is a father. At first he thinks she is lying to him, but after she tells him everything and shows him a picture, he has little doubt, yet to be sure he wants a DNA test, which she immediately accepts.
Mariana Snow didn't agree with her sister when she got pregnant and decided not to tell the father of her baby. She knows that her sister agreed with her mother about the use of men after their father abandoned them. But that doesn't mean that their decision was the right one. Now that her sister died and left custody of her nephew Cody to her, she decided to make the right decision by telling the father and let him decide what he wants. That doesn't mean that she will just hand over custody.
At first Mariana thought that Jacob would not be interested enough to want to visit often nor have the time for it. She believed that he would wait until the DNA result came back before he would want to meet Cody, but he surprised her by wanting to meet him after only a few days.
Then when the results came in Jacob surprised her by saying he wanted more than being just a part time parent. He wants to live with Cody and be a part of his life. But Mariana will not just give Cody up before she makes sure that Jacob is ready to be a full time hands on father. Which means that Marina will be living with Jacob and Cody until she knows for a fact that Jacob knows what he is doing. But being so close to him only brings the attraction and sparks between to the forefront and make it more difficult to ignore.
While they spend time as a family, they will have a difficult time remembering that they are not actually one and that Mariana will be leaving as soon as Jacob knows how to care for Cody. In the meantime, Jacob will be learning the other side to the story of his family that he never saw, and that he may be a little at fault of the distance he feels with his family.
If you want a sweet and fun read, don't miss The Texan's Surprise Son by Cathy McDavid.
Book Info:

Published October 7th 2014 by Harlequin
Taken By Surprise
Jacob Baron is shocked to discover he's a father. But he's determined to do right by his son, despite the lack of strong role models in his own life. Jacob's a bull rider, and there's no halfway with him. He'll be the kind of dad his son needs…even if Cody's attractive aunt, Mariana Snow, seems to question his daddy skills at every turn.
Jacob cooks, cleans and has a nice touch with a two-year-old. He also has broad shoulders, gorgeous eyes and a mouth that can only be described as sexy. But Mariana's own part-time, no-good father was a rodeo star. She knows their charms can't be trusted. She's hanging around for Cody's sake, that's all. At least, that's what she keeps telling herself….