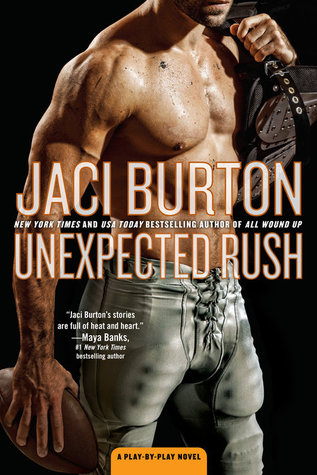 Unexpected Rush by Jaci Burton: After yet another breakup, Harmony is ready to move on if only her brother would stop interfering. Drake's penchant for over-protectiveness is getting in the way, especially since Harmony can't quite keep her eyes off of his best friend, Barrett. Drake and Barrett have been best friends throughout college and as teammates on the same NFL team.
Barrett knows the rule about dating the sibling of a friend and plans to stay far, far away from Harmony and the temptation she represents. But Drake and her mom throw them together by suggesting that Harmony is the perfect person to help Barrett remodel his new house. Harmony is looking forward to using the time to convince Barrett to pursue the crazy attraction both feel.
"Fine. I'll cook for you. But if you're going to gut my kitchen it won't be here."
She enjoyed the fact that he was pissed off about the whole cooking thing when it had been nothing more than a throwaway comment.
"I'll invite you to my place, Barrett. You can cook for me there."
"Wait. What? How did this conversation turn into a me cooking for you at your place event?"
Harmony is a smart, driven woman who is willing to go after what she wants. Before Barrett realizes it, they are spending quite a bit of time together and not just to make decisions on redesigning and redecorating his house. He's also quite the caretaker. His desire for Harmony becomes too hard to fight and they are combustible!
When he left, Barrett slid a look in her direction.
She shrugged. "I might have gotten carried away. The ice cream mind is a dangerous thing."
One side of his mouth pulled up in a half smile. "So it seems. Let's dig in and see what kind of damage we can do."
Unexpected Rush is a fun and sexy sports romance. Jaci Burton amps up the heat factor with a taste of the forbidden. Ms. Burton writes great dialogue and characters that make you wish you could live in their world. Unexpected Rush can be read as a standalone in the Play-By-Play series. Fans of Carly Phillips and Jeanette Murray will enjoy Unexpected Rush.
Book Info:

 February 16th 2016 | Berkley | Play by Play #11
In the new Play-By-Play novel by the New York Times bestselling author of All Wound Up, a football hot shot and his best friend's sister are breaking all the rules.
All the Right Moves
For Barrett Cassidy, playing defense for the Tampa Hawks is a dream come true. And now he may have discovered his dream woman. Harmony Evans, once the sweet, gawky teenage sister of his best friend and teammate has grown into a smart, gorgeous woman with moves he finds hard to resist. But he knows he can't get involved with his best friend's sister—it's guy code.
Harmony has always gone after what she wants with single-minded determination, from her independence to her education to her career in social work. She never expected her youthful crush on Barrett to develop into something deeper. And she's not about to let some ridiculous man rules or her brother stand in her way.
When the chemistry is this combustible, lines tend to get crossed. And when Barrett and Harmony's secret gets out, it just might be game over…