Today it is my pleasure to Welcome romance author
Katee Robert
to HJ!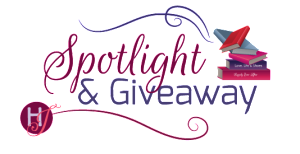 Hi Katee and welcome to HJ! We're so excited to chat with you about your new release, The Fearless King!

Thank you so much for having me!

Please summarize the book a la Twitter style for the readers here: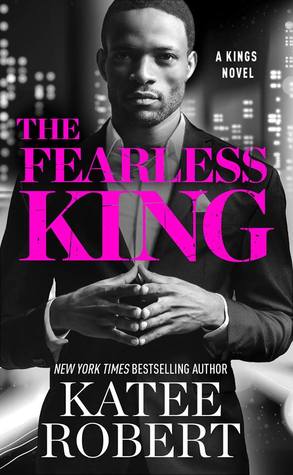 When Journey King's father shows up, threatening to take over the family company, she must join forces with the one man she shouldn't want–Frank Evans.

Please share the opening lines of this book:
"Our father is back in Houston."
"That's hilarious. You should be a comedian." Journey King sat down in the chair across from her brother's massive desk and waited for him to laugh. But the devastating sympathy in Anderson's blue eyes told her that he wasn't joking.
Please share a few Fun facts about this book…
Journey's book was originally supposed to be #3, but she and Frank both stole the show in The Last King, so their story had to come next!
I listened to Kesha's album Rainbow pretty much on repeat while writing this book. It's even dedicated to her!
This is one of the few books that I've written that actually made me cry. Journey is close to my heart, and she's so freaking broken, it just killed me.
The inspiration pictures I used for Frank and Journey were from Michael B Jordan and Cara Delevingne.
The cover for this book is one of my top 3 favorite covers I've ever gotten.
What first attracts your Hero to the Heroine and vice versa?
He's attracted to her because she's a puzzle — a society darling who has wounded eyes, both strong and soft all at the same time.
She's attracted to him because he's powerful and, instead of using that power to instill fear in those around him, he takes care of his people.

Using just 5 words, how would you describe Hero and Heroine's love affair?
Hot, Complicated, Angsty, Surprisingly sweet.

The First Kiss…
"Journey."
The shock of hearing her actual name from his lips propelled her into motion. If he kept talking in that deep, steady voice, she'd compromise what little strength she had left. She'd spent too much of her life weak and depending on others to shield her. Doing it now, with a man who was barely more than a stranger? Out of the question. She had to leave and she had to leave now.
But when she moved, it was to sway toward him. Frank caught her hips, his big hands easily holding her in place. This was where he'd set her away from him and say something cutting to slam her back into reality.
Except he didn't say anything at all.
Frank's gaze went hot and his fingers pulsed on her hips, the slightest of movements that had her forgetting what little common sense she had left and tilting her face up to his. Their lips touched, and the world around them held its breath. Another mistake in a long list of mistakes. There was no backing down. No turning back time to pretend none of this ever happened. She shifted closer and pressed herself against his solid body. The man didn't seem to have a soft spot on him. Good. Journey ran her hands up his chest and nipped his bottom lip. Hard.
Just like that, the world sprang into motion again. Frank moved. One second Journey was wondering how far to take this, and the next he'd spun them around and pinned her against the door. He ran his rough hands down her sides, over her ass. Touching her everywhere. Anywhere. Yes, yes, yes.
Without revealing too much, what is your favorite scene in the book?
It's the moment when Journey lays down her truth — she doesn't want someone to save her. She wants to save herself.
"Duchess, you need a white knight. I'm not that. I'm never going to be that."
She picked up her glass and drained half of it. "I don't need a knight, Frank. I need a goddamn sword and the skills to save myself. I've played the part of damsel in distress. It's not a comfortable fit for me." She met his gaze steadily, a tangled mess of emotions lurking in those hazel eyes. Anger. Fear. Despair. Desire. "Know anyone who makes a mean suit of armor?"
If your book was optioned for a movie, what scene would be absolutely crucial to include?
It would be the first real moment of softness between Frank and Journey. He's trying to take care of her, and she's having none of it, and it's full of prickly pride and a sliver of vulnerability.
"I'll call you a cab."
Journey sat up, some of the pleasure leaving her face. "What?" Hurt lingered at the edge of her expression, and he could no more leave it unanswered than he could let her walk out of his office fifteen minutes ago.
He leaned forward and gripped the back of her neck, bringing her up to press her forehead against his. "If you fuck me tonight, you'll regret it, Duchess. You'd wake up in the morning and let shame override how good everything I'd do to you felt."
"I'm not saying you're right." She took a shuddering breath. "But I'm not saying you're wrong, either."
He didn't release her, couldn't force himself to let go quite yet. "Have dinner with me tomorrow."
"What?"
Even though he knew better, words spilled out. "You have a problem, Journey. Don't insult my intelligence by lying to me. We both know something drove you here tonight, and we both know that orgasm barely took the edge off of your fear." He released her neck and smoothed a hand over her hair before he could stop himself.
She reacted like he'd hooked her up to a live wire. Journey shot back until she hit the wall, her eyes too wide. "No."
He froze. Why not? Frank didn't let the question escape. He'd told her at the beginning of this that all she had to say was no to end things. She'd just called his fucking bluff. He let his hand drop and sat back on his heels. "I'll call you a cab," he repeated.
"That's for the best." She snatched her dress and pulled it on while he watched. Through it all, she didn't make direct eye contact again. Journey reached for the door and paused. "Frank…" She seemed to brace herself. "I appreciate the offer—I appreciate tonight, too—but…" She shook her head. "Good night, Frank."
Readers should read this book …
If they love a hero who's all marshmallow beneath his rough exterior and
What are you currently working on? What other releases do you have planned?
I'm currently working on a brand new series called The Island of Ys. It's dark romance (a la The O'Malleys and The Kings) and you'll be seeing a few of your favorites show up in it! The first book, His Forbidden Desire, releases in March.
Thanks for blogging at HJ!
Giveaway:

$25 Amazon gift certificate
To enter Giveaway: Please complete the Rafflecopter form and Post a comment to this Q:

Do you love heroines who save themselves?
Excerpt from The Fearless King:
He tore his mouth from hers and yanked her dress strap down to bite her shoulder. "You want a distraction, Duchess." He soothed the spot with his tongue and kissed her collarbone, the soft scrape of his teeth against her skin making her shiver. "I'll give it to you. On one condition."
She could barely think past his hands on her thighs, banding around them hard enough to bruise. Each touch. Each bite. Each rough kiss. It all towed her inch by inch back to earth, back to the person Journey King really was.
At least the person she was when her personal demons didn't show up to rub her face in the past.
No. No thinking. There's only Frank.
She arched against him, but he held her immobile. Journey cursed. "What condition?"
"After this, you tell me what's going on." He sucked hard on her neck, and her knees buckled. Frank spoke against her skin. "The truth, Duchess."
"Okay." She lied through her teeth. Anything to keep this going, to ground herself, to banish the fears nipping at her heels for a few minutes.
He lifted her and moved between her thighs, pinning her more effectively. It should have made her feel trapped, but she couldn't think about being pinned into place with Frank's tongue and teeth working her neck. He licked the pulse point in the hollow of her throat. "I'm not going to be gentle."
This is what I need.
She let her head drop back against the door, baring her throat to him completely. "I don't want you to be."
He leaned back enough to look at her—really look at her. "You just had two shots. If you're drunk—"
A laugh slipped free, a breath of fresh air clearing away some of the taint that had crept into her heart in the last hour. "Honey, it would take more than two to get me there. I'm no lightweight." Escaping her past would be so much easier if she could drown it out with only a few shots. Unfortunately, her entire family had too high of a tolerance for alcohol to make drinking her problems away an easy thing to accomplish.
He let go of one of her thighs and gripped her chin, his fingers little pinpricks of pain that had her hips moving restlessly against his. Frank met her gaze. "We all have demons, Duchess."
Not like me.
She couldn't handle kindness. It was too close to pity for the throbbing nerve she'd become in the months since the last phone call with her father. Having his barely veiled poison dripping in her ear was like standing on the tracks and feeling the first vibrations of an oncoming train. She'd instinctively known that call wouldn't be the end of it, that he'd play out one of his little games the way he had when his children were at his mercy—the kind of game that ended in blood and broken bones and psychological damage that a lifetime of therapy couldn't quite banish.
But instead of facing the ugly truth, she'd wrapped herself in comforting lies. He's gone. He'll never come back. We'll never be at his mercy again.
Look where that got her. Throwing herself at one of the few people in Houston who actually had the means to bring down Kingdom Corp—and would do it without a second thought if she gave him an in. Awesome job, Jo. Way to make good life choices.
Pressure clamped her throat, a curious burning rising with each ragged inhale. Oh God, I'm going to cry. Journey pushed on Frank's shoulders. "This was a mistake."
He hesitated but finally released her and stepped back, keeping one hand on her hip as if to ensure she didn't crumple at his feet. Since her knees were a little wonky, it was a good call. Her lips felt bruised and swollen, her neck tingling from his rough five-o'clock shadow, her thighs quivering from the feeling of him gripping her there.
She turned and grabbed the door handle. Frank was still too close, too big, too overwhelming. She could feel his gaze on her back. Waiting.
All she had to do was turn the doorknob and walk out of the room and he'd let her go. He'd given her a taste of what it would be like to take him to bed, and she didn't know if she'd survive it. Frank had all the markings of a control freak with a short leash, but there was no leash in evidence with his mouth against hers.
Which is the real Frank?
Does it matter?
She opened the door and looked into the hall. Half a dozen steps to the stairs leading down to the club where the pulsing beat of the music called.
Freedom. Or another kind of cage.
In the end, it didn't matter.
She shut the door and very deliberately locked it. I choose this. If I choose nothing else, I choose this, right here, right now. Journey unzipped the side of her dress as she turned to face Frank. He stood in the exact same place, watching her the way a hunting dog watched a wounded bird fall from the sky.
She slid her dress off her shoulders and down her body to step out of it, leaving her in only a black satin thong. She hooked her thumbs in the band, but Frank gave a sharp shake of his head. "Leave them on."
He crossed the distance between them in a single step, planting one hand against the door next to her ear. He didn't touch her, but his heat seemed to wrap around her, negating the chill of the air-conditioning. "Say no at any point, and this stops. No questions asked. I'll get you in that cab and make sure you get home safely. End of story."
She could have laughed. Who would have expected Frank Evans to have anything resembling an honorable streak, let alone with her? Journey reached up and very deliberately unbuttoned the front of his shirt. "Yes, Frank. I say yes."
Excerpts. © Reprinted by permission. All rights reserved.


Book Info:
Fake boyfriend. Real danger.
Journey King is an expert at managing the family business. But when her father returns to Houston hell-bent on making a play for the company, Journey will do anything to stop him, even if that means going to Frank Evans for help. Frank deals in information, the dirtier the better. Rugged and rock solid, he's by far her best ally – and also the most dangerous.
Frank knows better than to get tangled up with the Kings. But something about Journey's rare vulnerability drags him deep into enemy territory… and into her darkest past. Pretending to be her boyfriend may be necessary for their plan to work, but Frank soon finds helping Journey is much more than just another job – and he'll do whatever it takes to keep her safe.
Book Links: Amazon | B&N | iTunes | Goodreads |


Meet the Author: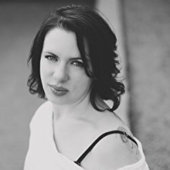 New York Times and USA TODAY bestselling author Katee Robert learned to tell her stories at her grandpa's knee. Her 2015 title, The Marriage Contract, was a RITA finalist, and RT Book Reviews named it 'a compulsively readable book with just the right amount of suspense and tension." When not writing sexy contemporary and romantic suspense, she spends her time playing imaginary games with her children, driving her husband batty with what-if questions, and planning for the inevitable zombie apocalypse.
Website | Facebook | Twitter | Instagram |