You Can't Judge A Trope By Its Cover: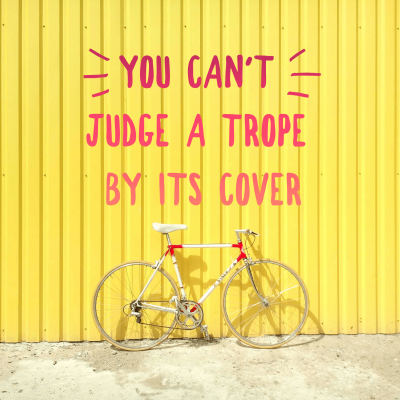 Trouble in Paradise
Happy Saturday Bookworms! First off, thank you for all of your answers to last weeks post on tropes. I've added quite a few books to my TBR list and I am forever in your debt. It seems that lines were drawn last time: some of us love second chance romance and some of us would rather not go there. Now unfortunately for those of you in the nay camp for second chance romance you are going to have to suffer for another week as I bring you Trouble in Paradise! 

This trope in second chance romance on steroids. And it is so delicious I can barely contain myself. Folks, I bring to you "marriage on the rocks" topes in romance! I love grovelling okay? I think it is positively delightful. Nothing feels better than characters getting together after some grovelling. I would argue that most second chance romance has some degree of grovelling in it. Marriage on the rocks tropes though are basically 70% grovel, 20% hate sex, and 10% HEA. I'm addicted to this formula. Without delay, I give you my preferred grovelling, hate sexing, but happily ever after-ing books!

Snow Kissed by Laura Florand. This is one of the most beautiful books I've read this year. The writing is exquisite. The emotional depth that these character have and will make you feel will leave you ugly crying into a pillow. Honestly, this book was pretty different from my usual romance books. Read: no smut, no insta-anything, heavy angst, heavy emotional stuff. I devoured this in one sitting. My heart still feels a little achy but I feel like a more well-rounded and empathetic person for having read this.

Fighting Fair Anne Calhoun. Quick, dirty and cute. There is nothing you won't love about Natalie and Shane. This little novella packs a major punch. I could have read a whole book of Shane grovelling and trying to fix a marriage that he's played a huge part in derailing. Plus, for such a short read these two characters showed great (but totally realistic) growth. Also, their makeup sex was fun & hot.

Hot Finish by Erin McCarthy. This was the first "marriage on the rocks" book I ever read! It holds a very special place in my heart for that reason. Suzanne and Ryder are such a fun and energetic couple. It makes me smile for days knowing that they got their happy ever after. (Ps. Suzanne I can totally relate to your over-protective nature in the kitchen. Nobody touches my granite counter tops either!)

Wild Card by Lora Leigh. I am going to be very straight with you. This is a terrible book. There are more plot holes than is reasonable. The side characters are not terribly great. Did I mention the plot holes? Yeah, huge plot holes. Does it stop me from loving this book immense amounts? Absolutely not. This was the first ever erotic romance I read and I have a serious attachment to Bella. Throw in a back from the dead husband who is living under a false identity. There isn't really an adequate way to describe the amount of grovelling that has to happen to make this one work. It's I-told-you-so levels of delicious.

You're Still the One by Sasha Clinton. This little indie read really surprised me! This is definitely a new adult romance we a hint of reality and maybe some cynicism thrown in. As soon as I put it down I recommended it to all of my 20-something friends and we all agreed that it was the best portrayal of the hell that is trying to grow with another person when you graduate from college and you have no idea what you are doing in life let alone how to do that with someone else. It was both realistic but gave a small dose of hope.

How do you feel about "marriage in trouble" tropes? 
Bookworms, I need your help! I love all of these books, but the one thing I am truly missing from a second chance romance or a marriage in trouble trope in a heroine who messes up and has to do the grovelling. I read about a lot of men who grovel, which is hot, but variety it the spice of life. Do you know a book like this? Would you be so kind to leave it in the comments?!


Katharine