A Dangerously Sexy Christmas by Stefanie London: We always hurt the ones we love,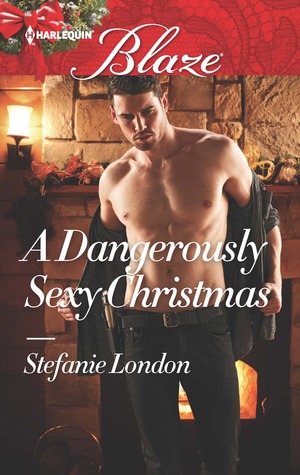 right? Or is it that they always hurt us? Maybe there is a reason that love just isn't for some people
Rose Lawson didn't know what to expect after moving back to New York after so many years of being gone. All she knew is that if she didn't want to be hurt or disappointed it was better to not let any one get too close. Yes, that included her estranged father. Then weird things started to happen, a break in at her work, then one at her house. Now her father hired a private eye to keep an eye on her. What was going on in her life?
Max Ridgeway had come to America to forget. The past year had held a lot of tragedy for him in Australia so it was time to start over and bury things deeper. So he was determined to be a great private eye, solve cases hand them over to the police and create this new life, one where he wasn't about to get too close to anyone.
When Max is hired to take care of Rose and protect her, they both jump to some pretty interesting ideas. As time moves on and the threats become more vivid it's clear to them both that this is going to be life changing.
Ms. London has definitely given her readers an edge of the seat reading with this hot novel. There are villains and good guys and not all of them are easy to identify. There is heat enough to melt the snow in Antarctica. What is really catching about this novel is that it isn't all about the heat or even all about the mystery its got a really great combination of a wonderful storyline and some really hot stuff. Such a combination is a rare find. Congratulations Ms. London for such a hit.
Book Info:

Publication: Published November 1st 2015 | Harlequin Blaze |
Assignment: A Hot Holiday Affair!
Aspiring jewelry designer Rose Lawson doesn't want a bodyguard. Especially the hot, muscle-y one her father hires after a break-in at the jewelry shop where she works. It's only when her home is also ransacked that Rose realizes the sexy (but infuriating) bodyguard might come in handy…especially on a cold winter's night.
Max Ridgeway is a former Aussie cop who's got something to prove in New York. He's convinced that someone dangerous is behind the robberies and that Rose needs protection. His protection. But what's even more dangerous is the sexy tension between them—because a hot little fling could compromise their lives…and his heart.