Burn It Up by Cara McKenna: Abilene has a world of regrets, but she's determined to live a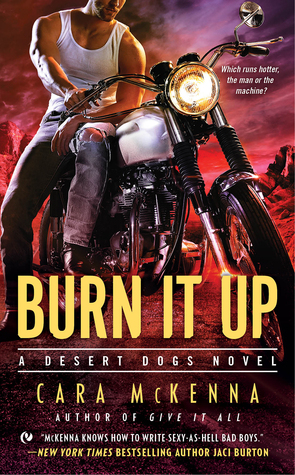 better life for her daughter. She's finally found people who are willing to lend a hand when asked instead of relying on manipulation to get what she needs. She initially kept her pregnancy a secret from the baby's father and her ex, but she knows that her time has run out with James' imminent release from jail.
Since Casey's return to Fortuity, he's changed his life. He has a respectable job and helps out his family. Casey was attracted to Abilene from the moment she came to town. He backed off once he knew she was pregnant and instead became a solid and reliable presence in her and the baby's life. He's still attracted to Abilene, but he believes that she could never accept his criminal past.
"Liar. Chicks only say that to get you to talk; then they find something to hold against you for the rest of eternity."
"Casey, you're here because my ex is a violent gunrunner. You really think I'll be all that scandalized?
Casey and the rest of their friends are determined to support and protect Abilene, if needed, from her ex once he's released. He feels very protective of Abilene and her daughter. Casey never thought he could handle the responsibility that is needed for a committed relationship or raising a child, but he loves to help out.
They circle each other as both want more than the friendship they currently have, but both have plenty of secrets that they have no intention of revealing. After exploring their chemistry one night, it becomes near impossible to forget what they could have.
"You sure? Because this is pretty sloppy and messed up, and I'm starting to think I should have just kept my mouth shut."
"Nothing about you and me has ever looked quite like it was supposed to."
Burn It Up is a friends to lovers romance where both are looking for a fresh start from a checkered past. Burn It Up can be read as a standalone in the Desert Dogs series. Cara McKenna two characters that are very alike in Casey and Abilene as they are determined to learn from their mistakes and turn their lives around. Ms. McKenna provided family, drama, mystery, heartache, and heat in Burn It Up. Fans of Katie Ashley's Vicious Cycle series will enjoy Burn It Up.
Book Info:

Publication: Expected publication: November 3rd 2015 | Signet | Desert Dogs #3
In the latest from the acclaimed author of Give It All, mount up and ride a roaring motorcycle to Fortuity, Nevada, where the heat is rising…
After a decade spent chasing shadier pursuits, Casey Grossier has come home to the badlands to settle down in Fortuity. Vowing to put his days of dirty money behind him, he's cleaned up his act and become co-owner of Benji's Saloon. But despite his efforts to be a better man, he can't shake his crush on his sweet-faced bartender, even though the woman screams trouble.
Abilene Price hopes she can outrun her mistakes and build a safe, respectable life for herself and her baby. So she'd be wise to keep her distance from her boss, Casey, and the rest of his roughneck motorcycle club, the Desert Dogs. But she just might need their help. The return of a violent figure from Abilene's past ignites a powder keg—and it's only the beginning…