A Fare to Remember by Opal Carew is a steamy read that will pull readers in, with its intriguing characters and their intense chemistry.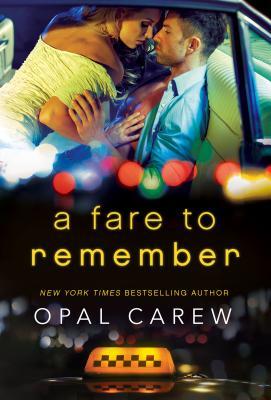 Stevie is a cab driver, who just caught her boyfriend cheating on her. She packed her clothes and threw them in the back of her cab. She has no idea where she's going to end up, but she can't worry about that right now, because she has customers to pick up. Her next customer, Reid, is sexy, well-dressed, and could be the man to turn her mood upside down. The only problem…he's a billionaire and she hates wealthy people.
There is something about Stevie that intrigues Reid and he wants more than a quick screw with her. He wants to take his time with her and that means getting her to go to his place. Since she has nowhere to go anyway, he appeals to her needs. Stevie agrees to one night, but she's in the surprise of her life when Reid's business partner, Dylan gets in on the action. The three of them together is really hot, and Dylan and Reid also fulfill some other fantasies for Stevie and that scene is a scorcher!
I loved the heroine. She values her independence and doesn't take handouts. She's feisty, well-spoken, and loves her job. Also, her job is very original. A cabbie isn't a sexy career choice to begin with and it's usually male dominated, but this author made it work. The author also did a great job with the title, A Fare to Remember, is aptly named and sets the mood of the story. As for Reid and Dylan, both men are different and give Stevie what she needs. It's clear that this story revolves around Reid and Stevie, but Dylan has a place in their lives.
There were only a couple of areas in the story I had an issue with. Stevie does send out mixed signals. Throughout the story, she's adamant about her and Reid not being serious and how she doesn't want to lead him on, but she does anyway. The only other thing that bothered me was about Reid. When Dylan became involved it was clear Reid didn't want him near his woman, but then all of sudden, it was okay. Not sure how he got to that point, but would have loved a little more exploration into his mind. Overall, it was an enjoyable tale.
This book has a few surprises in store for readers. A Fare to Remember, isn't at all what I expected, yet, I was pleasantly surprised how the story played out. You can expect some light BDSM, steamy sex scenes which includes some threesome action, and a romance not to be forgotten.
Book Info:

Publication: January 3rd 2017 | St. Martin's Griffin |
Stevie just caught her boyfriend cheating, so without a second thought, she packed her suitcase and tossed it in the back of her cab. Unsure of where to go next, everything changes when sexy billionaire Rex steps into her cab.
Rex senses a powerful connection the instant he sets eyes on the beautiful but guarded cabdriver. Both at their loneliest points, Stevie and Rex succumb to a moment of passion that leads to a proposition: Rex will pay Stevie a hefty fee if she accompanies him to a business getaway as his escort. It's up to Stevie if she'd like to share his bed while they're away. But once she's had a taste of pleasure at the gorgeous billionaire's hands, will she ever be able to walk away?