A Haught Date by Leela Lou Dahlin is an entertaining read. It is the story about Gemmi Brooks, an art gallery assistant who believes herself to be quite average and ordinary. Gemmi's low self-esteem and "nothing special" outlook on life is partly due to her cousin Rosy's constant interference. Rosy, once Gemmi's best friend, has been a thorn in her side ever since Gemmi returned home college. In fact, at her family's last reunion, Rosy seduced Gemmi's boyfriend. As a result, Gemmi feels embarrassed and humiliated when she is around her family. Now her mother along with anyone else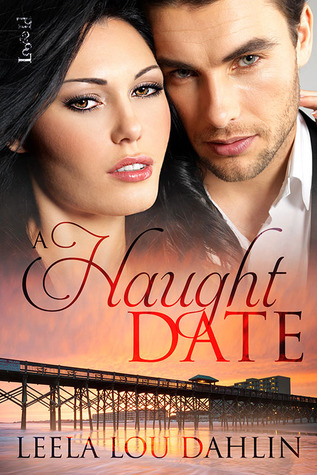 remotely related, arrange dates for Gemmi all the time, ever hopeful that a relationship will blossom and lead to a future. Stopping her family from meddling and ending the fix-up phenomenon is at the top of Gemmi's to do list, which means she has to find a fake boyfriend fast.
Camden Haught is a good looking guy who along with his two older brothers, own the Haught Spot, a successful local tavern. Camden lost his parents at a very early age and blames himself for their deaths. As a result, he has lived his entire life trying to please others and help out whenever he can. Camden does not believe he deserves his own happiness or a lifetime of love. He is a super sensitive man that can turn the world on with his smile.
Gemmi's dizzy best friend and boss, Tru, knows that her good friend Camden is the perfect fake boyfriend for Gemmi. One arranged date leads to another encounter and Viola!, Gemmi and Camden are a couple. Gemmi and Camden are great together and over time, their fake relationship turns into a full blown love affair.
This is one steamy book. The sex scenes are scorchers and the sexual tension is off the charts. Gemmi and Camden are perfect for each other both in and out of the bedroom. Whew, Ms. Dahlin certainly knows how to write tantalizing sex scenes. However, I would have enjoyed the book a lot more if there was a little more story and a little less sex.
I really liked Camden and his two brothers. I found them to be truly earnest individuals that care about each other, which seems so rare these days. All three are sensitive in their own unique way. I am looking forward to Ms. Dahlin's next book in the series. Will it be about Alec or Beau Haught?
Book Info:

Published April 15th 2014 by Loose Id LLC
Gemmi Brooks was humiliated at the last family reunion when her boyfriend was found in bed with her cousin. With her self-esteem shaken, and to offset the pity party her family has been throwing in her honor, she invented the love of her life. Now the jig is up and she needs to find the boyfriend she's told her family she's been dating for the last 5 months.
Camden Haught, the sexy bachelor and bartender/owner of The Haught Spot, is always willing to help a woman in distress, so when the local heartthrob offers himself up to play the role as her boyfriend he can't understand why Gemmi's so resistant. As he tries to convince her he's the right one for the position he finds himself wanting more.
Both of them have reasons to keep their emotions and this farce of a relationship under wraps, but as this pretend relationship turns to real passion, there's a decision that has to be made. Should they take the risk to make this real or keep it as A Haught Date?