A Last Chance Christmas by Vicki Lewis Thompson: Molly Gallagher was all about family, to the point that she was writing her families history. Now the Gallagher family was a bit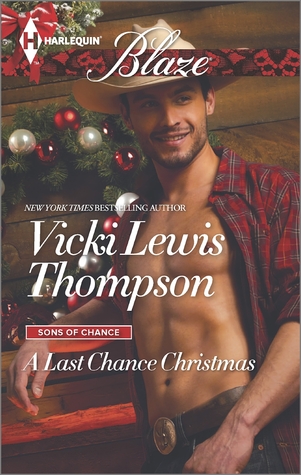 more complicated than most so she had flown up from Arizona to spend some time getting to know some extended family. It just so happens that she arrived for her Aunt's 70th birthday and to spend some time with pre Christmas celebrations. Then a newbie showed up and she wasn't quiet sure what to make of him.
Ben Radcliffe wasn't exactly the happy family man. In fact he never wanted children, wasn't even sure he ever wanted to get married. He wanted to be there when Sarah saw her saddle though, the one he put so much time, effort and love into. So here was Ben thrust into this huge family celebration for Sarah's 70th birthday. Then she walked into his line of sight and everything changed, but the problem was she was exactly opposite, she was all about family.
Molly and Ben were total family opposites but thrown together in the midst of a family reunion would either one of their attitudes change? Or would they realize a future would never be possible? Throw in a snowstorm, a missed flight and another snow storm, oh and a birthday party and Christmas…. Then add a permanent marker and a possible explosion, you never know what is going to happen. Happily ever after? Or a gift of coal?
Ms. Thompson has brought us to Last Chance Ranch is this HOTTTT novel about a man who is running scared and a woman who wants nothing more than to settle and have a large family. This novel is hot, but has a lot of family and family dynamics in it. The descriptions of emotions are something beyond the normal and have you feeling for the characters. This novel is about the interaction and nature verses nurture. If you are in the mood for something to get you worked up AND make you smile, this is something you should pick up.
Book Info:

Published November 18th 2014 by Harlequin Blaze Series #823
A Christmas kiss from a cowboy…
Ben Radcliffe reckons it'll be a cold day in hell before he considers a serious relationship or family of his own—with good reason. When he delivers a "secret" present to the Last Chance Ranch, however, Ben catches a glimpse of what family could be. And suddenly this lone cowboy finds himself under the mistletoe…planting one heck of a kiss on a stunning woman!
Genealogist and academic Molly Gallagher is all about family. And even if Ben's secrets make him as skittish as a wild mustang, there's nothing Molly loves more than an enigma. Especially a ridiculously sexy one! But the magic of Christmas—and the Last Chance Ranch—might not be enough to wrangle a cowboy who can't trust himself…