Season for Desire by Theresa Romain: "Adventure!" is the catchphrase of one of the characters in Theresa Romain's "Season for Desire," the fourth book in her "Holiday Pleasure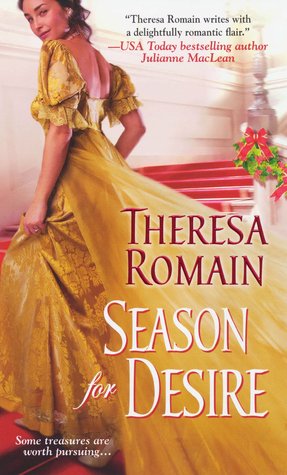 Series." Not only is it a "holiday" book, stretching in time over Christmas and the New Year, but also a traveling treasure hunt with a diverse cast—a rebellious young woman, a responsible younger man, a grumpy but lonely chaperone and a happy-go-lucky father. Adventure indeed!
The rebellious young woman is Lady Audrina Bradleigh, daughter of the Earl of Alleyneham, who has been drugged and kidnapped by an ambitious and nasty gentleman to whom she had unwisely given her affection, and who wants to force her into marriage. She is rescued by Richard and Giles Rutherford, father and son, who have come from America to England to search for a puzzle box that was hidden by Richard Rutherford's late wife before they went to America (Richard had eloped with Lady Beatrix Newcombe to America many years before). For their troubles, the Rutherfords gain three things from the earl: charge of Audrina until after her older sister marries a duke; a countess, Lady Irving, as a chaperone; and the location of a puzzle box belonging to Richard's late wife. Thus they are off on a grand quest to find treasure, love and, yes, adventure.
Giles wanted to throttle whoever had coined the word adventure. Everything was an adventure to Richard Rutherford, from days on sleet-sludgy roads to his grandiose plan to establish a London jewelry firm to rival Rundell and Bridge.
"Season for Desire" has all the elements to make for a delightful holiday read. There is young love, and older love, teamwork and heartache. A race to the end to the treasure hunt, with various and sundry of all sorts of characters thrown in: a dotty crazy-dog lover and her dog-allergic daughter, a lonely heiress spinster, both capable and treacherous servants, and an upright but kind-hearted duke. And there is a heart-warming ye old English Christmas celebration (including the rather daunting sounding Yorkshire Christmas pie, which is kind of an English variation of turducken).
"A Yorkshire Christmas pie," said Mr. Booth, hitching at his suspenders with an expression of pride, "Has five kinds of bird stuffed wi'in each other, all inside the tastiest crust you can imagine. Oh, and there's rabbit in there, too, isn't there, Mrs. Booth?" At her affirmation, he added, "Mrs. Booth made it two days ago so it could age properly in the larder,"
This book is very much like the aforementioned Yorkshire Christmas pie, with many elements stuffed within, and united under the overarching plot thread of the treasure hunt for the puzzle boxes. Although the emotional threads can get lost under the quirky characters and plot busyness, the writing is excellent, the scenes are lovely, and the relationships are unforced.
This is a book I recommend reading when you have a moment to yourself to enjoy, away from the hustle and bustle of the holiday season, with perhaps a cup of tea, an apple tart, and maybe a slice of pie.
Book Info:

Published October 7th 2014 by Zebra (first published January 1st 2014)
Like her four sisters, Lady Audrina Bradleigh is expected to marry a duke, lead fashion, and behave with propriety. Consequently, Audrina pursues mischief with gusto, attending scandalous parties and indulging in illicit affairs. But when an erstwhile lover threatens to ruin her reputation, Audrina has no choice but to find a respectable husband at once.
Who would guess that her search would lead her to Giles Rutherford, a blunt-spoken American on a treasure hunt of his own? When a Christmas snowstorm strands the pair at a country inn, more secrets are traded than gifts—along with kisses that require no mistletoe—and Audrina discovers even proper gentlemen have their wicked side…