In A Little Thing Called Love (Marrying the Duke 0.5) by Cathy Maxwell, Jennifer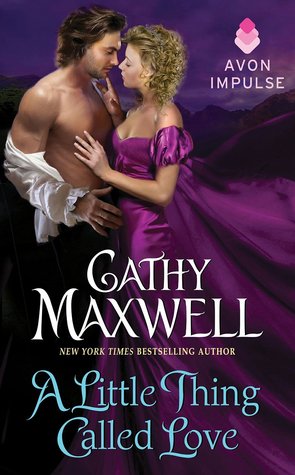 Tarleton knows her father may be right, that marrying a rich man with a title will save them from financial ruin, but she would rather marry for love. Especially when she meets handsome Fyclan Morris. The Irish businessman is everything Jennifer dreams of but there is bad blood between her father and Fyclan, making marriage out of the question. Is she willing to give up her family for a chance at a life with her beloved?
'Soon, she lulled herself into trusting that all would work in her favor. It must. She was in love with Fyclan Morris, and didn't people belong with those they loved?'
Fyclan was told by his Gran when he was a lad that he was destined for great things. He would have riches and a woman more beautiful than any other. Their children would become dukes and princes, no less. Fyclan has certainly become a successful, wealthy man, but he didn't truly dare hope he would find his mate until he saw Jennifer. She is The One and he intends to do whatever it takes to build a life with her. After all, their predestined love is written in the stars.
"You must believe."
"In what?" The words came out in tears. She was breaking into pieces, and he was in danger of losing her.
"In me. In us. In love."
A Little Thing Called Love was a masterful novella that not only sets us up nicely for Cathy Maxwell's new series Marrying the Duke, it also proves that true love will win. Every. Time.
This was honestly such a sweetly done love story that it could make skeptics believe in love and destiny. Cathy Maxwell created characters rich with honest emotions, both good and bad. Case in point: even though I was not a fan of any of Jennifer's family, or her noble-born suitors for that matter, I could appreciate them for who they were as part of the plot. And I really, really didn't like her father, so to say that I could view his actions as a means to Jennifer and Fyclan's HEA is a testament to good writing.
The scenes between Fyclan and Jennifer were extremely heartfelt, having a good balance of intelligence, humor and desire. I thought that as a couple they complemented each other well. Their courtship, while done mostly in secret via letters, was detailed the most here. Then we skipped briefly through the next few years until the event that sets in motion how book one, The Match of the Century, will begin. If future stories are anything like the lovematch we found between Jennifer and Fyclan…we are in for a treat!
A grand, sweeping love story about two genuine people who are absolutely meant for each other, A Little Thing Called Love will steal the heart of historical romance fans.
Book Info:

Publication: September 22nd 2015 | by Avon Impulse | Marrying the Duke #0.5
Grandmother, grandmother, who shall it be
Who shall it be who will marry me?
Duke, Earl, a powerful marquess?
When my heart is given to Fyclan Morris…
In New York Times bestselling author Cathy Maxwell's new novella, beautiful Jennifer Tarleton has no lack of noble suitors, but the only man who captures her attention is the one her father will never let her marry: Fyclan Morris. He's a brash adventurer, witty, courageous…and Irish! Even worse, her father blames her for their reversal of fortune…
And it's a fortune—or rather, his grandmother the fortune teller—who foretold that Fyclan would meet "the one,", a love prophesied in the stars. He vows nothing will stand in the way of making Jennifer his bride, but is the price too high? Or is a thing called love worth every challenge?