Falling for Mr. December by Kate Hardy: Cancer is a nasty, nasty disease. It can steal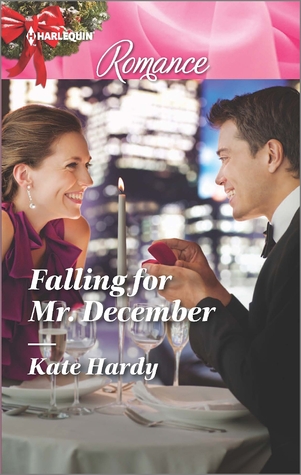 hope, light and life. It can also give you a big reason to keep on keeping on.
Samantha Jane Thompson, aka Sammy, felt pretty good about her self. She was a freelance photographer with two wonderful best friends. Most of the time she didn't think about the fact that she was a cancer survivor or that she had just had another scare. She did think about the fact that with both of her best friends now married she was getting a little lonely. Sammy also knew from experience though, that men couldn't love her for her so whatever she didn't need them either.
Nicholas, Nick, Kennedy was done with dating, done with women. His ex and his past had done that to him. He wanted nothing to do with the "fairer" sex any more. He loved his career as a barrister and his sister and nephews were his world. He didn't need anything more, right?
When Sammy signs on to photograph a calendar of men for the cancer ward she has no idea what she is getting. Then she meets Mr. December, Nick Kennedy, and she might be breaking every professional rule she has. When secrets start to come out though and Nick realizes that Sammy has been holding back on him can they both realize that the truth might not be black and white?
Ms. Hardy wraps up a trilogy with this novel that can be read as a stand-alone. It is a bit of a heart wrencher though with a strong feeling of overcoming which makes the reader feel stronger and more aware at the end of the novel. The descriptions are great, but what really makes this a pick up is the connection that she is able to have the readers and the characters make. Even if you don't live in London, aren't a cancer survivor, a photographer or a lawyer somehow she is able to make you make a connection to these two and really feel with them. Oh and I have to say the ending alone is so completely swoon worthy.
Book Info:

Publication: October 6th 2015 | Harlequin Romance |
The best Christmas present ever!
Photographer Sammy Thompson has learned the hard way to protect herself. After surviving cancer, she's not about to risk her emotions on just anyone! But meeting buttoned-up barrister Nick Kennedy at a charity calendar shoot, and feeling the sparks between them, makes Sammy wonder what she's been missing out on…
Sammy's never dreamed of forever, but as she gets to know the man behind the pinstripes, dare she hope Nick will make it a Christmas to remember with the most magical gift of all—his heart?