All I Want for Christmas by Jennifer Gracen: Cassandra Baines and Sean McKinnon are two pretty polar opposites when you look at them. Cassandra is the quintessential New Yorker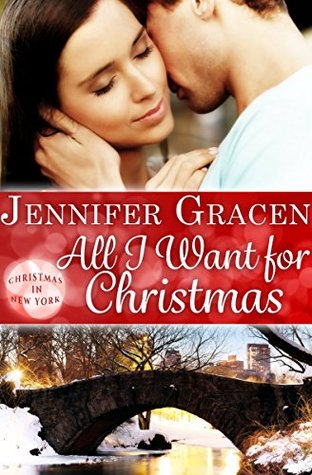 and academic working as an assistant professor. Sean is an Irishman co-owner of a New York bar and player of the guitar when the music strikes him, oh and yes he hates school. So what happens when school meets anti-school?
There is a great love affair until reality hits and Sean runs scared. Now years later the two meet again. Did Cassandra ever get over Sean or Sean ever get over Cassandra? Will the two of them ever talk to one another enough to get over the past? Or will the past always be a roadblock?
A part of the Christmas in New York series by Tule Publishing Ms. Gracen has given her readers a great story of holiday/love redemption. These two characters are full of depth and emotions that convey through the pages.
This is a quick story with a little heat but that is definitely not the focus, the romance and the redemption is. This is a great story for a little holiday magic to help you get ready to open your heart for the season.
Book Info:

Published November 9th 2014 by Tule Publishing Group
Cassandra Baines almost has it all: a flourishing career as one of the youngest English Lit assistant professors at NYU, an apartment in a city she adores, and a close circle of lifelong girlfriends that are like sisters. The only thing she doesn't have is someone special to share it with. She's been married to her work since Sean McKinnon broke her heart seven years ago.
Musician and bar owner Sean McKinnon keeps busy – too busy for a love life. He blew it with Cassie all those years ago, and no one has held a candle to her since.
But then one fateful night, of all the people in New York City, Cassandra walks into his bar, and he's drawn to her as strongly as ever. She wants nothing to do with him, but he's not going to give up so easily.
Can a bit of New York Christmas magic help two people take a second chance on true love?