In All of Me (Love Between the Bases #1) by Jennifer Bernard, Caleb Hart came to Kilby, Texas, to pitch for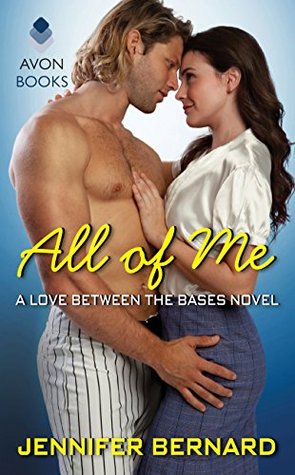 the Catfish, a local minor league team after messing up his shot at the big time. Hoping to get his career back on track and keep his nose clean around his troublemaker teammates, he knows his younger siblings are counting on him to get it together. A run in with the mayor's sexy assistant gets Caleb wound up, trying to get a date with her. Luck is on his side, though, when they're teamed up to tame the Catfish's reputation. But what he has in mind for Sadie is definitely not tame or innocent.
'He handed her a note, then ran off. She opened it and read: 'Come out with me after the game. CH'. Looking up sharply, she found him in the dugout, looking straight at her. He winked. Her knees shook, even though she was sitting down. Oh sweet Lord, she was definitely in trouble.'
Sadie Merritt is out of her self-imposed exile after months of seeing her name dragged through the mud by her ex-boyfriend all over town. She's learned the value of having a true friend, her BFF Donna, and is happy to finally be employed. Working for the mayor keeps her busy but hasn't really been entertaining until she is tasked to deliver a petition to the Catfish to change their partying ways. When Sadie meets Caleb, their attraction is out of control. And when she finds out how sweet Caleb truly is, she knows things are about to change and there's nothing she can do to stop it.
"I love you, Caleb. You have no idea how much. I was in a dark hole and then you came along and…everything got bright and wonderful."

Tenderly, he stroked the wetness from her cheek with his thumb, something deep and powerful glowing in his eyes. "Bright and wonderful, that's you, my sweet love. That's completely you."
So. Much. Fun. All of Me was the perfect feel-good story to start the summer off with lots of sparks and heat. And I'm not just talkin' about the heat from Caleb's pitches! *fans face*
What a great beginning to Jennifer Bernard's Love Between the Bases series. The characters were every bit as charming and down-to-earth as I have come to expect from her contemporary writing style. And I'm happy to say that (so far) the male characters, Caleb certainly included, have been hunky alphas who have some very dirty mouths, but they have hearts of gold, just like in her Bachelor Firemen series. But let's not forget the ladies. Sadie, her best friend Donna, and even Mayor Trent were sassy, intelligent, stand-up women who you just want to befriend yourself.
I really thought the relationship that grew between Sadie and Caleb felt very natural and that they were tailor made for each other. They'd both been to hell and back over the years but found their way out. Caleb shouldered his family responsibilities with no questions asked, while Sadie came back from a horrible scandal with grace and humility. I loved them together, teasing and flirting. They had a lot of heat between them but they were also protective and loyal, which was wonderful to see. Watching them interact with the townspeople and of course the ballplayers from the Catfish was so much fun that I can't wait until book two comes out!
If you enjoy small town romances that burn H-O-T but also have a lot of substance to the storyline, look no further than All of Me. What a great Summertime book to have on hand!
Book Info:

Published May 26th 2015 | by Avon | Love Between the Bases #1
Jennifer Bernard, the USA Today bestselling author of the Bachelor Firemen series, scores another homerun with a brand-new series about sexy, single baseball players.
Playing for the Kilby Catfish is hotshot pitcher Caleb Hart's last chance to salvage his career after a major league meltdown. But the day of his opener with the minor league team, Caleb strikes out with the gorgeous woman who is delivering a petition to run the unruly Catfish out of town. Now, to stay in the lineup, Caleb will need to score big with the feisty brunette he can't keep out of his thoughts.
After the nasty lies Sadie Merritt's rich ex-boyfriend spread about her all over town, she's lucky to have a job at all. She can't afford to screw it up by falling for the player who is supposed to be helping her change the image of the fun-loving Catfish. But that's easier said than done when Caleb's voice alone is enough to make her pulse race. And when he surprises her with a mind-blowing kiss, she knows there's no turning back.