The Best Medicine (Strictly Business #1) by Elizabeth Hayley: Lauren is an intelligent, confident, and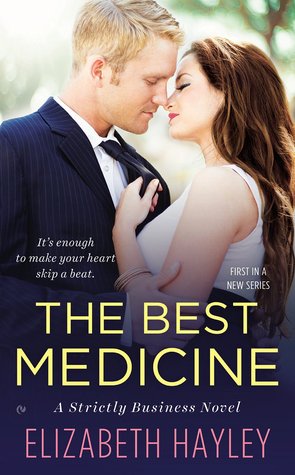 perceptive woman. She hates that she's in her mid-20's and not yet in her chosen career but still in school. She's trying to relax and enjoy before classes begin when an unwanted advance leads to a misunderstanding which leads to an arrest. Dealing with the consequences of that night result in Lauren taking a part-time job.
Scott is a genius and has his own practice at only the age of 29. Since he progressed through school much more quickly than most, he's not the best at making friends. He can come across as being private and closed off. He's a sexy, confident doctor with a great bedside manner and Lauren's new boss.
Scott and Lauren don't get off to the best start as Lauren isn't at all what Scott expected. Lauren seems to see right through Scott and she enjoys throwing him off balance. She looks forward to making him squirm after that first meeting, but she can't deny how attractive he is. Scott makes it very clear that he has no interest in a relationship with messy feelings, but is very interested in a strictly physical relationship.

"I thought we'd move past your weird staring tendencies," she said.
"I'm not staring at you. I'm looking at this disgrace you call a desk."
"Well maybe if my boss didn't make a sweatshop owners look lax, I'd have more time to tidy up."
Before they know it, they've crossed the boundaries of their arrangement from only sex to friends-with-benefits, to an actual relationship. They look forward to emails and texts from each other. They find that they enjoy spending their time together in and out of bed.
"Cheating? You're crazy. I warned you not to start with me, but you didn't want to listen."
"But I didn't pin you down. You have an unfair advantage." She tried to wriggle out of his grip.
"You didn't pin me down because you can't pin me down. Don't blame your weakness of me."
"Whatever." she continued to try to fight him off, but when it became clear that he wasn't going to stop out of the goodness of his heart, she relented. "Okay, fine. You win."
The Best Medicine is a fun and sexy romance with two people who aren't looking for love. Elizabeth Hayley wrote fun, flirty, innuendo-laced banter between Scott and Lauren. This writing duo also created a very relatable heroine in Lauren. Their group of friends make for interesting secondary characters. Fans of Jessica Topper, Jenna Sutton, and Kimberly Lang will enjoy The Best Medicine.
Book Info:

Publication: June 2nd 2015 | Signet | Strictly Business #1
The first novel in a sparkling and sexy new contemporary romance series about four best friends looking for love in all the right places—and the one woman who discovers that it takes more than an impeccable bedside manner to make dreams come true…
Lauren Hastings is finally ready to enter the real world. At twenty-six, she's about to get her master's in psychology, and she's well on her way to beginning the career of her dreams—until she suffers public humiliation and has to endure something she thought she'd never have to deal with again: a part-time job.
A gig at Trinity Hospital isn't exactly Lauren's definition of a good time, but Dr. Scott Jacobs quickly changes her mind. He's straight-up gorgeous, and he always gets what he wants. And that includes Lauren. It's an ideal arrangement for both of them. No strings. Just fun—at least at first.
But feelings quickly begin to run deeper than either Lauren or Scott is willing to admit, causing issues neither of them want to confront. After all, who wants to risk the perfect relationship on something as terrifying, as messy, and as unpredictable as love?