Black Knight, White Queen by Jackie Ashenden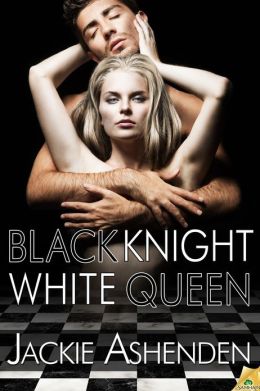 Aleks sees her – standing by the balustrade, watching the lightning light up the Thailand sky."You should get undercover," He said. "You're going to get wet." And even though she didn't listen, he was riveted. Not a good thing to be when he was only two days away from a professional chess match. He had to concentrate. He just wished his brain would co-operate.
Izzy felt the attraction emanating from him in hot wanting waves. "Dude, are you going to pick me up?" She asked huskily. "Because I'm telling you now, your chances of success are extremely high." But this wasn't something Izzy did. She didn't do one-night stands. In fact, she only came to Thailand to escape from the people that pushed her away. Okay, they didn't all push her away, some of them just left.
Somehow, these two people instinctively saw the pain in each other while telling themselves they just wanted escape. Escape from the feelings, the wants, the needs denied to them.
Aleks had what his adopted mother called, "attachment difficulties". In plain speak, it meant she couldn't deal with him, so she sent him back to Russia. Back to the orphanage that was worse than living on the street. When he escaped at age ten, he hid from the police in plain sight. At a park where men played chess. It happened to be sitting next to Viktor, who was kind enough to claim him as his grandson. He became a mentor to Aleks – teaching him how to become a chess Grandmaster, and in the process, about control.
Izzy was tired of being invisible. She felt the loss of her sister just as much as her parents, but they treated her like a pariah. A reminder of the daughter they lost, and not helping her to cope with the pain they all shared. When she was with Aleks, she felt beautiful. Cherished. Special. She wanted to be special to someone. But it wasn't just that… she wanted it from Aleks.
"I'm not doing fast. I'm not doing desperate. Not this time. I'm going to go slow and take my time, and you want to know why, Aleks? Because you're worth it, okay? You're worth taking the time over."
While Aleks had no interest in caring about another person, Izzy wanted to help. She wanted to take away his pain, ease the grief, and maybe even heal herself. She opened herself fully to him – is there any way he could possibly return that gift?
"Okay, so he had a problem with love and grief but apparently no issue with lust."
Wow. This book is amazing. I already dig Jackie's writing, but this was effing poetry. The sex was super hot, and the words are gorgeous.
"…before her had been a different life, lived by a different man. A man changed forever by a woman he'd met in a hotel bar in a thunderstorm."
Book Info:

Publisher: Samhain Publishing, Ltd. (July 30, 2013)
One night in Bangkok changes all the rules.
Professional chess player Aleksandr Shastin never lets emotions rule his life, or his game. Not even the unexpected death of his mentor shakes his icy control—at least that's what he thinks. Until he meets a woman in a Bangkok rooftop bar, a woman whose raw sexuality and emotional honesty find every invisible crack…and pries them wide open.
Graphic artist Izzy Cornwall fled to Thailand to escape suffocating grief and guilt after her sister's suicide. As she locks gazes with Aleks, their instant attraction sets her on fire. And the way he looks at her makes her feel what she hasn't felt in months: that she actually exists.
In the heat of a Bangkok rainstorm, their chemistry steams up what was supposed to be one night of pain-numbing passion. Neither expected that a single encounter would change all the rules, making Aleks the novice, and Izzy the grandmaster. But if Izzy wants his heart, she'll have to show him that in order to win, sometimes you have to lose.
Warning: Contains one hot, controlling Russian chess master, a heroine who's more than capable of taking him on in a game of strip chess, and a checkmate to make Kasparov proud.