Blackmailed Down the Aisle by Louise Fuller is a sensual and entertaining romance featuring a handsome and arrogant billionaire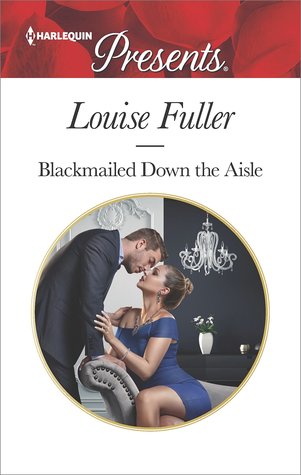 and a down to earth waitress who finds herself making a deal with the devil. Daisy Maddox will do anything for her twin brother David. Both of them work for Fleming Enterprises, but David's gambling problems have escalated, such that he'd made a terrible mistake. He'd stolen a watch from their boss, Rollo Fleming, when he'd seen it in Rollo's office. He'd had the intention of selling it to pay off some of his debts, but immediate remorse had set in upon going home, and he'd shared what he did with his sister Daisy.
Daisy came to live with her brother six months ago, still trying to find an acting job but settling for waitressing at Fleming events in the interim. She's got a chance to return the watch to Rollo's office during a late night party, and she'd have been successful – if the boss hadn't returned home unexpectedly and surprised her in his office. Daisy's attempts to lie her way out of trouble fail when Rollo reveals that he'd already known about David's theft. But Rollo has an offer for her that she can't refuse. He's been trying to buy a building from a company whose owner places a lot of weight on family commitments in his business dealings. A wife is just what he needs to prove he values the same things. Rollo won't press charges against David, or Daisy, if she'll agree to marry him! It's blackmail, pure and simple, and Daisy doesn't have any other choice. But as they spend time together, the lines between pretense and reality blur. Can their fake relationship turn into something real?
This is my first time reading this author and definitely not my last! I thought this was a great modern look at a marriage of convenience trope, with interesting characters and a dynamic plot.
Rollo and Daisy must go through the somewhat arduous task of 'studying' for their roles as soon to be husband and wife, but in the process they actually learn important things about one another. They have their share of arguments where Daisy isn't afraid to stand up for herself, even under the imposing presence of her new fiance. Rollo comes to respect and admire Daisy, and envy her close relationship with her brother. His feelings about her are complicated by the abandonment he experienced by his mother as a child, and it's made him leery of getting involved in a long term relationship. But the more time he spends with Daisy, the more he enjoys being with her.
Rollo and Daisy share some sensual love scenes as they connect on an intimate level. They have their share of conflict, and Rollo makes some mistakes but comes to his senses in the nick of time with some heartfelt apologies (I love a good grovel!) that Daisy is happy to accept. The epilogue is a sweet touch. I enjoyed this romance very much and look forward to reading more from this author!

Book Info:

Publication: Apr 18, 2017 | Harlequin Presents |
"What's it to be–me, or the police?"
Out-of-work actress Daisy Maddox would do anything for her brother–even sneak into a sleek New York office to return the watch he stole from billionaire Rollo Fleming.
When Rollo catches her red-handed, Daisy is completely at his mercy. But Rollo needs a wife to seal a deal, and events take a wild turn–he demands Daisy become his temporary wife!
Swept into Rollo's world, Daisy's caught in an intense tangle of emotions. And with every searing kiss, Daisy's guard melts, as she discovers there are unexpected, pleasurable advantages to being blackmailed down the aisle…