The VIP Doubles Down by Nancy Herkness: For over a year, ever since his father's death, bestselling author Gavin Miller has had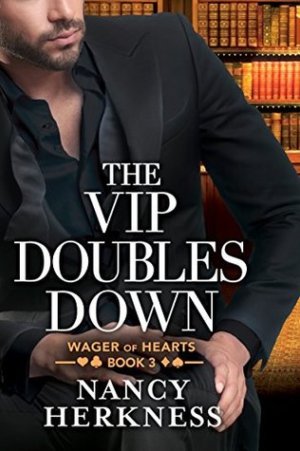 writer's block and nothing and no one has been able to get through to him. That is, until his agent in desperate attempt hires a physical therapist for him to work out the physical kinks.
Little does Gavin expect that physical therapist Allie is just what his mind needs. Early on, she becomes his muse. Her excitement for his series incites his own interest in his character once more and, more than that, her stubborn will and fiery locks incites a much different type of interest.
After a bad divorce and being fired from her job due to her ex-husband's antics, all Allie wants is work and to do a good job by Gavin. But he becomes so much more than a job soon enough. Only, his troubles and their old romances might not let these two move onto a happily ever after.
"And that's why I asked you to come here," he said, his sea green eyes changing from stormy to intent. He took a step closer so she could smell the rich leather of his jacket. "There's just one other thing I need to do." He stretched out his hand to stroke her hair before he picked up several strands to rub between his fingertips.
With a slow build to passionate romance, I highly appreciated the first three quarters of The VIP Doubles Down. Although their attraction was pretty immediate, it wasn't extreme or overboard as so many romances do. Instead, Allie and Gavin went through a slower build until they just couldn't not be together anymore. And I loved that because I felt a connection between them beyond the physical.
However, the last quarter of the story was a bit lost to me. It just felt muddled and the main rip between the pair just felt a little silly. Until that point, the story went along smoothly and with a good pace, but then it felt rushed and not fully thought out, which I really disliked because I enjoyed the first portion of the romance so much.
I'd been looking forward to Gavin's story this entire series and overall I did highly enjoy his romance. And I really did love getting a deeper look into Gavin's life – and meeting the perfect woman for him. For those who love the troubled artist type of romance, I recommend The VIP Doubles Down. As the third in a series, it's always nice to read the others for background, but this romance can be read as a standalone.

Book Info:

Publication: April 18, 2017 | Montlake Romance | Wager of Hearts #3
In the witty, sizzling finale to award-winning author Nancy Herkness's Wager of Hearts series, a haunted writer conquers his demons with the help of a feisty muse and a passion that doesn't play by the book.
Gavin Miller, the billionaire author of a bestselling thriller series, struggles with a grim secret: he hasn't written a word in more than a year.
Writer's block is killing his spirit and jeopardizing his contracts with his publisher and his Hollywood producers. Prodded by his agent, Gavin reluctantly agrees to see Allie Nichols, a sassy physical therapist tasked with treating the novelist's severe neck and shoulder pain—and maybe his writer's block, too.
The tempestuous Gavin and no-nonsense Allie soon find themselves entangled in a steamy affair that sparks Gavin's creativity again. But their manipulative ex-lovers and Gavin's lingering childhood scars threaten their happily ever after. Can Gavin and Allie find their way to love when the stakes are high and the obstacles are overwhelming?