In Broken (The Cavanaugh Brothers #2) by Laura Wright, James has a painful past he's done his best to move away from. A 'horse whisperer', James has spent much of his adult hood traveling. When his father dies, he is suddenly back in his hometown where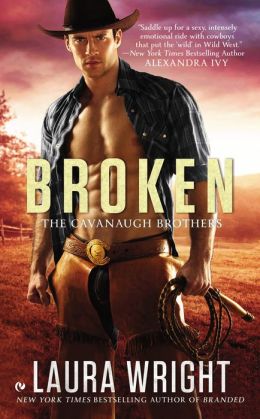 he can't escape the past, the painful memories or the surprises that await James and his brothers.
James believes he's better off on his own, that no woman is safe with him. So when Sheridan, who works for his brother, sets off sparks inside him, he does his best to ignore them. Sheridan is not looking for a Happily Ever After…bad experiences have taught her they are best not hoped for. She is determined and independent, and completely unprepared for her attraction to James.
As they fight the attraction but slowly come together, two broken people who just might be able to help each other heal if they can give it a chance. At the same time, James and his brothers are also trying to find answers to the past. Answers that seem determined to stay hidden.
I read Branded, the first book in this series, and it enthralled me. Unfortunately Broken did not do the same for me. I didn't feel as pulled in or as invested in the story as I did with Branded. I didn't feel that James and Sheridan's characters developed enough to draw me in and make me want to stay. Laura did make me feel for both of them and their pasts, but the connection just wasn't there. The characters were a little difficult to get to know.
I did like the relationship James has with his brothers, the connection they have is obvious. The past is touched on enough to give an adequate understanding of them, and I like how the mystery of the past and their sister continues to grow and develop. I also liked the relationship that developed between Mac and Sheridan, as much as Sheridan fought that too. It was fun to see Mac draw Sheridan out of her shell.
Humorous at times with romance full of conflict and an underlying mystery, I would recommend reading Branded before Broken to get a good understanding of the brothers' and their parents' backgrounds. The Cavanaugh Brothers is a promising series and I do plan to read the third book when it comes out.
Book Info: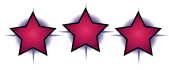 Published October 7th 2014 by Signet | (The Cavanaugh Brothers #2)
The Cavanaugh brothers left behind River Black, Texas, long ago. But after their father dies, bequeathing them the Triple C, a cattle ranch that sustains their small town, they return—and confront the painful memories of their childhood home and the truth about their sister's murder…
For years, James Cavanaugh has traveled the world as a horse whisperer, but even the millions he's earned hasn't healed the pain he hides behind his stoic exterior. Forced to tackle old demons at the ranch, James throws himself into work to avoid his true feelings. Until he meets a woman who shakes the foundations of his well-built walls…
Sheridan O'Neil's quiet confidence has served her well, except when it comes to romance. Tired of rejection, she's ready to swear off men. But after being rescued from a horse stampede by the most beautiful cowboy she's ever met, her resolve wavers. Only, as Sheridan uncovers James's belief that no woman is safe with him, she wonders if such a wounded man could ever give in to love, or if some hearts are too broken to be healed…