Call to Honor by Tawny Weber: Secrets and intrigue, a little boy who is doing just fine with his momma and no need for a daddy. Then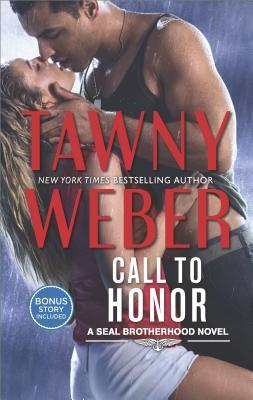 there is this new neighbor and news that will rock all of their worlds.
Harper Mclean was a good mom. She may not have been prepared for any of this, but she knew she was a good mom with a good son and she would overcome. That didn't mean that there were times when she was scared, when she wasn't sure. Then there was that whole dating thing. It's not that she missed it but when her new neighbor moved in all of a sudden her body came alive again and now she was missing a whole lot of things.
Diego Torres was a man of honor. He may have grown up on the streets and done things that he shouldn't of, but now he was a SEAL an elite. The problem was in his view if you were one of the elite you didn't do certain things. So he wasn't ready to hear that one of their own may have gone bad.
When Harper and Diego meet there was instant attraction, but what neither of them expected was how deep it would go. That is until secrets started to unravel, then all bets were off, what would be the result?
This is one of the best novels in a long while. Ms. Weber has begun her new series with an amazing bang. The story's plot is thicker and more intense than most "romance" novels but it is so encompassing you won't want to put it down. The players are so well created they could hop out and be in your living room, even the secondary players. This is an amazing story you need to go get immediately and then pray that Ms. Weber completes the second one quickly!

Book Info:

Publication: Published January 31st 2017 | Harlequin Books | SEAL Brotherhood #1
The Poseidon team are hard-bodied, fiercely competitive navy SEALs. But when a sensitive mission goes disastrously wrong, three of the team's finest will have to trust their hearts and instincts to uncover the truth…
"No man left behind" is inscribed in the DNA of every SEAL and Lieutenant Diego Torres is no exception. But with a team member killed—and the body missing—Diego's honor is sorely tested. Now his career and reputation are on the line, and a traitor is hiding among them. Diego wants answers…and only one woman has them.
Single mom Harper Maclean has two priorities—raising her son Nathan and starting a new life. Her mysterious new neighbor may be impossibly charming, but Diego asks too many questions about her past—and about the father of her child. Questions she fears will reveal her burning attraction for Diego, and ultimately put them all in danger's path.