In Captive Prince by C.S. Pacat, Prince Damianos has proven himself on the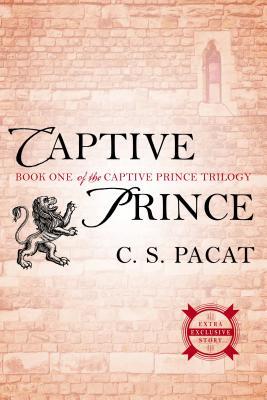 battlefields defending his beloved home of Akielos and has earned a place in the hearts of his countrymen. Never did he expect that his downfall would be the betrayal of his half-brother. Damen not only loses his father, the King, but his people are told he is dead while his half-brother takes over the throne.
"You'll come to understand that what they are saying in the palace, in the taverns and in the streets is true. You're a slave. You're worth nothing. Prince Damianos is dead."
Sent to rival country Vere as a slave for Prince Laurent, Damen's main concern is for the safety of the other trained slaves who were also given to the Regent and Prince as a gift. He waits for the opportunity to escape while he keeps his ears open to the dissent between the Regent and his nephew, Laurent. Caught between the feuding family members, Damen's only means to help his country may be to choose sides in Vere's royal fight for the throne.
'This place sickened him. Anywhere else, you simply killed your enemy with a sword. Or poisoned him, if you had the honourless instincts of an assassin. Here, it was layer upon layer of constructed double-dealing, dark, polished and unpleasant.'
Captive Prince was an engrossing tale that found me reading as fast as I could, thanks to the carefully chosen details and complex storyline. This was definitely a nice start to a new trilogy.
I will start by saying that this story is quite graphic and it is mainly about M/M liaisons, so it may not be comfortable for some readers. That having been said, I didn't think the erotic scenes overshadowed the plot at all. To me, it seemed like it was simply part of the culture in Vere so of course it would have a place in this story. And I liked that it added another layer to the fantasy element of Ms. Pacat's intelligent writing.
Damen and Laurent had a very complicated relationship that was so intriguing to watch as it played out. I thought it was admirable that Damen was worried about the slaves from his homeland that were also sent to Vere instead of worrying about himself. His struggles posing as a slave while he was actually a prince were written convincingly and I could feel that sense of betrayal as well as the longing to find his way home.
Laurent, however, was a tricky guy to understand. This book was written from Damen's POV so we didn't get that firsthand knowledge of Laurent's true intentions. But suffice it to say that he was manipulative and was always planning things so as to be at least one step ahead of everyone else. It will be interesting to see in the next installment whether he has designs on making Damen his or if Laurent is just using him to his own advantage.
If you enjoy stories set in far away lands, full of deceit and with twisting, involved plots, Captive Prince will certainly hold your attention. It may not have a happily-ever-after yet, but I have a feeling the journey will be worth it in the end.
Book Info:

Published April 7th 2015 by Berkley
From global phenomenon C. S. Pacat comes the first in her critically acclaimed trilogy—with a bonus story.
Damen is a warrior hero to his people, and the rightful heir to the throne of Akielos. But when his half brother seizes power, Damen is captured, stripped of his identity, and sent to serve the prince of an enemy nation as a pleasure slave.
Beautiful, manipulative, and deadly, his new master, Prince Laurent, epitomizes the worst of the court at Vere. But in the lethal political web of the Veretian court, nothing is as it seems, and when Damen finds himself caught up in a play for the throne, he must work together with Laurent to survive and save his country.
For Damen, there is just one rule: never, ever reveal his true identity. Because the one man Damen needs is the one man who has more reason to hate him than anyone else…
Includes an exclusive extra story!