A SEAL's Pleasure (Uniformly Hot!) by Tawny Weber: Tessa, Angel, Monroe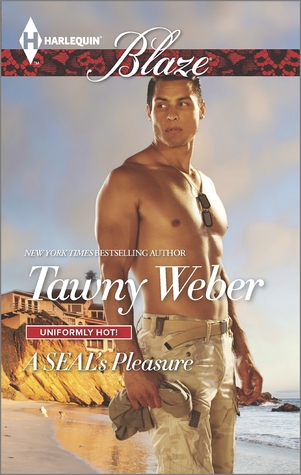 was used to being the flirt, being almost larger than life. After all, women like her were used to being looked at, having fun and living it up, right? That was what she wanted, right? Used to having everything just so though means that when things start to change it's not just something small it's earth shattering… why can't everything stay the same?
Gabriel, Romeo, Thorne is a SEAL, and what's more he's a winner. He's used to getting his own way all the time, not because he deserves it as much as he earns it. It doesn't matter if it's work, women or life he knows if he can keep his focus on the goal everything will go just right.
When Romeo and Angel are paired as the best man and maid of honor at their best friend's wedding something is going to have to change though. The sexual tension between the two of them is so strong and hot anyone in the room can feel it. For Romeo though that's not his goal and for Angel, that's not the way things work in her world. Can these two get over their hang-ups and be good for one another? Or will fear and pasts make them live in regret?
A SEAL's Pleasure by Tawny Weber is one heck of a novel. The dialogue between Angel and Romeo is so witty, so catchy and just so believable it's great. Where I normally go into Ms. Weber's novels expecting to be wowed I was completely blown away by her writing in this story. For me one of the best things about a story is whether or not you can immerse yourself into it and this was one that I could feel the sand, hear the banter and truly see everything. Without a doubt this is one of the most well written Blaze books I've come across all year.
Book Info:

Publication: April 21st 2015 by Harlequin Blaze Series #831| (Uniformly Hot! #60)
Subject: Navy SEAL Gabriel Thorne
Mission: Initiate Operation: Romance…and prove that one night isn't enough!
Explosives expert and Navy SEAL Gabriel "Romeo" Thorne makes his living tempting fate. Pushing the limits. So far, he's never lost—especially when it comes to women. That is, until his best friend's wedding, where Gabriel is suddenly face-to-face—and deliciously body-to-body—with the one woman hot enough to detonate his self-control.
Tessa Monroe is used to being in control with men. Gabriel, on the other hand, is pretty much her sex kryptonite. Hard, gorgeous, dark-eyed kryptonite. Even as her defenses whisper "danger," lust demands she take her pleasure with him and then run. Now they're skirting the edge of an explosive attraction…where one wrong move could mean disaster.