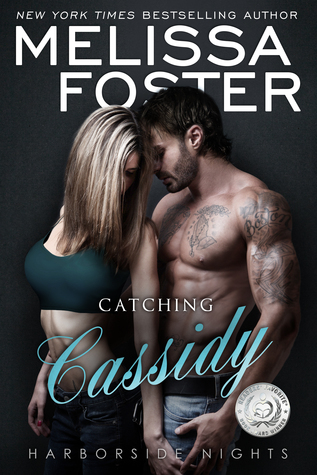 Catching Cassidy by Melissa Foster: Wyatt Armstrong and his twin sister, Delilah, have been best friends with Cassidy for most of their lives. Cassidy even spent more time in the Armstrong home than she did with her own parents. It was never a question that they would all attend the same college. They never imagined that finally graduating college would be anything other than a celebration. But that night Wyatt and Delilah's parents are killed and everyone is thrown. They all head for the Armstrong summer home in Harborside to escape the overwhelming memories at the family home.
Wyatt has always been protective and looked out for both his sister and Cassidy. But he's also never been good at planning or wanted to commit to anyone. Cassidy has wanted Wyatt for a long time, but she's been unsure about saying anything since her interest isn't reciprocated. Suddenly, things are changing for both of them and the palpable chemistry is something that even their best friends can't help but comment on.
"Don't resist me, Wyatt."
"I need to be sure we both understand what we're getting into so we can weather this together. The risk…It's still there. We have to know that going in."
With a lifelong friendship and Delilah to consider, Wyatt is reluctant to change their relationship. He wants her more than his next breath, but he's never really had a relationship and he's reeling over the loss of his parents. Wyatt and Cassidy can't resist temptation after living and working together.
Wyatt was forced to really grow up in a short amount of time. He's forced to become more responsible and make some hard decisions as he and his twin take over running the bar. Cassidy also has her own hard decisions to make when considering her own future.
"Not that I'm an expert on relationships, but if we're only supposed to share the good times, then we won't make it very long. My whole life is up and down. Good and bad."
"When did you get so relationship savvy?"
Catching Cassidy is a rollercoaster ride of emotions with plenty of push and pull as friends become lovers. Melissa Foster provides drama, angst, heat, and unwavering support from the family they chose. Ms. Foster created great secondary characters in their loyal Harborside friends. Fans of Kelly Moran and Annie Kelly will enjoy Catching Cassidy.
Book Info:

 Published April 28th 2015 | World Literary Press | Harborside Nights #1
If you enjoy the Love in Bloom series by Melissa Foster, you'll love Harborside Nights.
*CATCHING CASSIDY is a SILVER MEDAL Winner! Readers' Favorite Award, Realistic Fiction*
Harborside Nights is a sexy, hot, and evocatively real New Adult Romance series that follows a group of friends who have known one another for years as "summer" friends, and now come together after college to build their lives. They're tough, edgy, and accepting–most of the time. Although Catching Cassidy is a heterosexual romance, this series will include heterosexual, gay, and lesbian themes, written in the loving, raw, and emotional voice readers have come to love by New York Times & USA Today bestselling, award-winning author Melissa Foster.
In Catching Cassidy…
Wyatt Armstrong never imagined that instead of celebrating his college graduation, he and his twin sister would be dealing with the death of their parents. Then again, Wyatt had never been one to think past tomorrow. He heads to their summer home in Harborside, Massachusetts, with his best friend Cassidy Lowell in tow, to spread his parents' ashes and to try to figure out his next step.
Six foot two, infuriatingly handsome, and flirtatious, Wyatt Armstrong has always been there for Cassidy, helping her pass her classes and fend off unwanted advances, while driving her insane with his one-night stands–but that's what best friends are for, isn't it? Having each other's backs. There was never any doubt that she would accompany him to his family's summer home–even if her jealous boyfriend is giving her hell for it. But he doesn't have anything to be jealous of…or does he?
It's impossible to ignore the sizzling heat between them as Wyatt and Cassidy get even closer, but Cassidy knows Wyatt's past, and she has a real job to begin in the fall. Wyatt may be a sure thing for the summer, but Cassidy needs more. For the first time in his life, Wyatt is forced to look toward the future if he doesn't want to lose the one woman who's shared his past and owns his heart.
Coming in 2015 the full Harborside Nights series:
Catching Cassidy (Het)
Discovering Delilah (F/F)
Tempting Tristan (M/M)
Chasing Charley (Het)
Breaking Brandon (M/M)
Embracing Evan (Het)
Reaching Rusty (Het)
Loving Livi (Het)
Characters from the Love in Bloom series will appear in the Harborside Nights books.