Chasing Love by Melissa West finds Lila Jacobs returning to Crestler's Key after an attack in Charlotte to be an assistant at the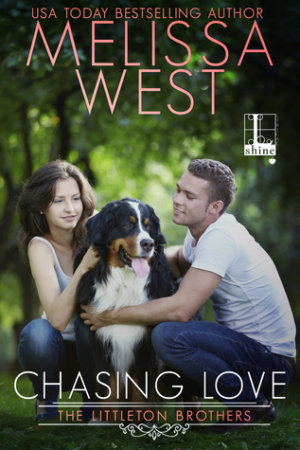 veterinary hospital and to be closer to her brother. She's always had a crush on her brother's best friend, Charlie Littleton. When he rushes his sick dog in, she realizes that even years apart haven't changed that.
Charlie has always cared about Lila. The only thing that kept him away from her was the worry about what his best friend, Lucas, would think about it. When Lucas, who is in the special forces, gets called away for duty, he asks Charlie to keep an eye out on Lila. As the pair spend more time together, they have to decide if their being together is worth upsetting Lucas.
I liked Lila and Charlie. While Lila initially comes across as a bit of a push-over, she finally gains enough confidence to stand up to her boss, who had treated her more like an assistant than a fellow veterinarian since she arrived back in town.
"And furthermore, this"–she said, pointing to his golf bag–"is ridiculous. You have assigned me to grooming while you go golfing? I don't think so. I am a veterinarian, and my job is to provide care to animals. Not clean up their vomit. Not bathe them. I am happy to be a team player, but I will not be treated like this anymore."
In addition to running the farm with his brothers, Charlie also teaches diving and has plans to open his own t-shirt business. He puts the needs of his family before his own, and he does with same with Lila to ensure she's happy. What I didn't understand was why he never told his brothers what his ex-girlfriend did to him to make him weary of being in a relationship. It was mentioned they weren't as close as they had been when they were kids, but I would have thought he still would have felt able to confide in them.
I was disappointed in the way Lucas took the news of Lila and Charlie getting together. I could understand him being upset, but the things he said and implied about Charlie were just wrong considering they were best friends since childhood. I loved when Lila called him out on his poor behavior.
You've called him your best friend for all these years, but you're not a friend. A real friend doesn't treat someone this way." She started for her car, then paused and turned back. "You should be ashamed of yourself. I am."
I also felt like Charlie was too forgiving of what happened, which was unrealistic. If someone had been treated the way he was, a simple "I'm sorry" wouldn't be enough to make it right.
Chasing Love is a sweet story about love, family, and friendship. If you enjoy the brother's best friend/best friend's sister trope, I recommend giving this one a read.

Book Info:

Publication: May 30, 2017 | Lyrical Shine | The Littleton Brothers #2
There aren't many things Charlie Littleton values more than his lifelong friendship with his buddy Lucas, currently home from a tour in Iraq. But when he discovers that Lucas's younger sister, Lila, is back to assist the town's overburdened veterinarian, Charlie is torn. She's no longer the skinny, awkward kid he remembers, but a gorgeous woman—one Lucas would never approve of him dating. When Lucas asks him to watch out for Lila when he's called to duty again, Charlie can't say no—but he can't pretend it's easy to ignore his feelings either.
As a teen, Lila crushed on Charlie—hard—and the man he's grown up to be is even more wonderful than she dreamed. Relationships are a tricky business, though, and too much history is at stake to risk one now. But every moment they're together is heated by their simmering attraction—and one day an impulsive kiss leads to much more. What's tangled in a matter of loyalty soon becomes a question of the kind of love worth chasing…