In Close Contact (Body Armor #3) by Lori Foster, Miles Dartman's new career as a bodyguard for the Body Armor agency has him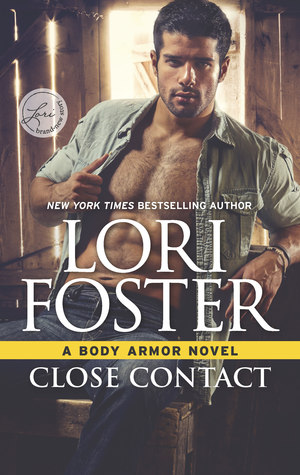 learning the ropes from some of his former MMA friends, Leese and Justice. And while he likes his new gig well enough, he hasn't really been put to the test yet. But that changes completely when he's assigned to protect Maxi Nevar, a woman he hooked up with a few times in the past–and was starting to fall for–before she gave him the boot. Wondering why she chose him as a bodyguard, Miles follows Maxi to her grandmother's farm. And that's when it gets real. Not only is there someone threatening her, apparently trying to make her sell the property, but Miles finds himself even more infatuated with Maxi as they spend more time together. With both of their lives on the line, not to mention his new job, he'll have to dig deep to keep them both safe and to find a way to convince his sassy cohort that they're meant to have a future together.
'He wanted her to open up, accept him.
He wanted her to want him, in all ways, as much as he did her. He just didn't know how to make it happen.'
As much as Maxi loves her grandmother's farm and all of the wild and crazy cats she inherited along with it, something just isn't right. Ever since she moved in someone has been messing with her. And she's not sure if it's malicious or if it's their idea of a prank. But when things go too far, she turns to the only person she can trust: Miles. Maxi knows she handled things badly between them when she broke off their casual relationship but she wasn't in a good place emotionally at the time. Now that he signed on to protect her and her beloved family home, she wonders if she just set herself up for heartache. Because Miles is every bit the warm, sexy, caring guy she remembers and she can't help but be drawn to him. But with Maxi's messed up life, not being able to trust the locals, her former friends or even her family, should she even consider letting Miles into her tattered heart?
"You plan to stay here, right? This will be your home?"
Come hell or high water, she'd find a way to make it all work. "Yes."
"Then you need to face your demons." His eyes looked very green, and very sexy, as they encouraged her. "I'll be with you. Tonight, and tomorrow, and the day after. However long it takes, okay? You don't have to do it alone."
Carefully crafted to leave readers guessing who was out to get our brave heroine Maxi, Close Contact was a suspenseful romance that had me absolutely captivated. And what made it even better was the super steamy partnership between Maxi and her bodyguard, former MMA fighter Miles. Hot. Stuff. *fans face*
'Blast him, he had her craving him all over again.
Who was she kidding? Soon as she'd laid eyes on him at the Body Armor agency, she'd suffered an explosion of need. Not just sexual, but all those special things Miles made her feel.'
As a fan of Lori Foster's work, I already knew I'd enjoy this book when I started reading it. But I had no idea that I would get pulled into the storyline so deeply or that I would so strongly cheer this couple on to figure out their emotions. I started off not sure if they could work things out or what the draw really was between Maxi and Miles but by the second chapter I was pretty well hooked. I liked that their attraction was mutual but that they both had felt something *real* starting between them the couple of times they hooked up a short while before this book began. It admittedly scared Maxi so I understood why it caused her to break things off, but I couldn't help but feel bad for Miles with the way things ended the first time around.
I thought Foster did a great job of building up the fantastic tension between Miles and Maxi, further expanding upon it to make his job of protecting her–and her wanting to keep emotionally detached–that much more difficult. As individuals I loved both Maxi and Miles. They were independent but caring, strong but tender, and fiercely loyal. And I found it kinda cool that it was Miles who was all in as far as wanting a relationship. He was an alpha guy but he wasn't a jerk and he knew that he had found something special with Maxi. I have to say that out of the Body Armor guys we've met, Miles is my favorite so far. There was something so down to earth and kind about him that I think readers will fall for him easily. I think the same will be true for Maxi as well. Even though I wanted to push her toward Miles and help her get her mind right (lol) she was one tough, thoughtful woman who learned from past mistakes and was trying to follow her grandmother's last wishes. Sigh…
Close Contact was everything I hoped it would be. And more. It had small town appeal, a sexually-charged budding romance, and even a reunion with some of the MMA guys (and their ladies) from Foster's Ultimate series. How could this story be anything be wonderful, right?
Book Info:
Michele H| 4.5 Stars | HJ Recommends | No |
Publication: Expected publication: November 28th 2017 | HQN Books | Body Armor #3
There's no resisting a desire like this…
MMA fighter Miles Dartman's casual arrangement with personal shopper Maxi Nevar would be many men's fantasy. She seeks him out, they have mindblowing sex, she leaves. Rinse, repeat. Yet lately, Miles wants more. And when Maxi requests his services via the Body Armor security agency, he's ready to finally break through her defenses—and protect her day and night.
Receiving a large inheritance has brought chaos and uncertainty into Maxi's life. Her ex has resurfaced, along with lots of former "friends," and someone is making mysterious threats. Then there's Miles, who doesn't ask for anything…except her trust. Pleasure is easy. Now Maxi has to give her heart as well as her body…or risk losing a man who could be everything she needs.